Stone Floor Cleaning Bristol
Kevin and Mair, founders of CSB stone floor cleaning Bristol, specialising in the restoration and polishing of Limestone, Travertine and Marble floors.
Our stone floor restoration, cleaning and polishing service produces stunning results with various effects and finishes, tailor to your DESIRED finish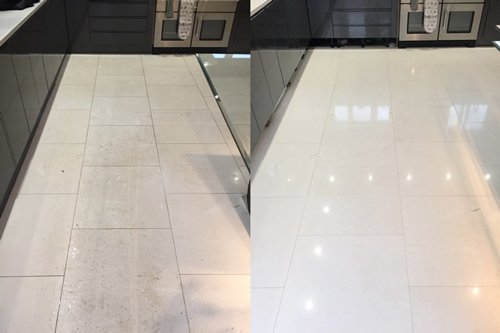 The Benefits:
Restore a fresh, smooth, "LIKE NEW" appearance.
Change or restore colour
Restore shine (4 different levels of sheen)
Optional shine (change your floor from matte to shine)
Bringing out the beauty of the stones natural veining.
Remove small scratches, etching, imperfection and large dents.
Tough sealant protects and prolongs the surfaces.
And the best thing is…
…you'll get 6 months worth of floor cleaner absolutely FREE!
Accredited Stone Floor Cleaners Bristol: This is what we can do!
Here is me, Mair, showing you exactly how we restored a Calacatta marble floor to a subtle gloss finish.
Marble Floor Cleaning Bristol
Kevin and Mair can completely transform your run down stone and tile floors back to a BEAUTIFUL finish, adding character and beauty back into your living space.
As professional craftsmen with over 25 years experience, we offer professional, high-quality stone floor restoration using our own time-tested process.
Our award winning system achieves beautiful results, the BEST finish and the most tailor-made service available for stone floor cleaning Bristol.
Kevin and Mair specialise in:
Colour restoring
Crack, etch and scratch repair
Restoring shine
Cleaning and maintenance
Grout cleaning
Keep in mind, all works fully insured and guaranteed.
And don't forget, we offer a FREE accurate quote.
Latest Marble Floor Clean and Polish
Take a look a this Queen Beige Marble floor we beautifully re-polished: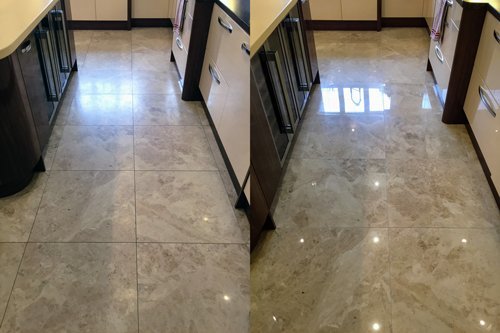 Travertine Floor Cleaning Service in Bristol
No matter how tough and beautiful your stone floor is, eventually it wears down.
Let's face it, at some point, your Travertine stone floor needs to be replenished and maintained. By doing so, your floor will last decades.
Best options for Travertine:
Polished finish – will tighten the pores and make cleaning easier.
Regular deep clean (annual if the Travertine has many holes) – stops dirt build up.
Impregnating sealer – deeply seals the tiles and prevents staining.
Travertine is very similar to Limestone yet Travertine tiles often have many holes and crevices.
Which can be a right pain because dirt tends to accumulate in these holes pretty quickly.
Therefore, regular cleaning of your Travertine floor is a must!
Also, having your Travertine floor polished will create a smoother surface, which in turn, will make your cleaning easier.
Latest Travertine Floor Clean and Polish
Here is a gorgeous farmhouse Travertine floor we restored. This stone floor underwent a deep clean and a light polish.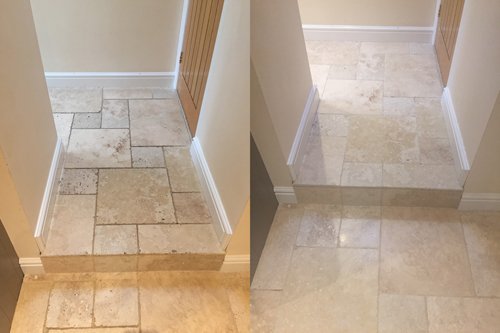 Stone Floor Cleaning in Bristol: Guide Know What Your Floor Needs
So the big question is….
What does my floor need to look beautiful once again?
Let's begin with our polishing service in Bristol.
If your floor is showing signs of slight wear in high traffic areas, has scratches, dents, or lost its shine, then your hard floor needs to be honed and polished.
See the picture below. On the left, the stone tile is honed creating a matt finish. On the right, we polished the tile to a high gloss finish.

What's involved?
The rotary machine carefully removes the top layer of the stone (its what we call honing) revealing a fresh, smooth, clean layer of stone.
This also removes light scratches and reveals the stones natural colours, veining and the stones unique characteristics.
Then we polish the surface to restore an even, beautiful shine throughout.
Key Benefits:
Increases absorption of sealant thus strengthening, preserving and sustaining the stone.
Smooth surface is a CLEAN surface. A surface free of scratches and dents prevents dirt or dust building up making cleaning much easier.
Improves the overall appearance of your home – ADDS VALUE.
Appear NEWER and fresh for a long time.
Removes scratches and dents.
Restores colour and shine
Polished Limestone Floor Cleaning Bristol
This is what 25 years of experience looks like. Catania Limestone we cleaned and polished to a gloss finish – Just Perfect!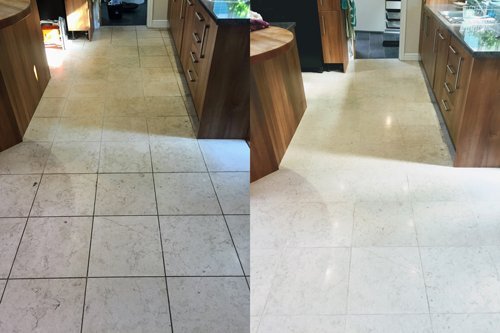 Travertine Floor with a Semi-Gloss Finish
Kevin restored this Travertine floor to a semi-gloss finish.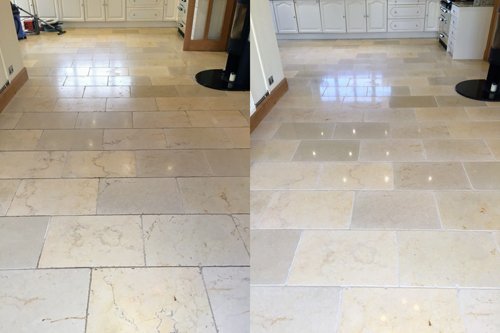 Hard Floor Cleaning and Colour Restoring of Slate, Marble and Flagstone
Keep in mind, a correct cleaning method and sealing of your hard floors are essential in keeping your floors in prime condition.
I can't stress this enough.
Why?
Simply because without proper maintenance, your floor will begin to wear out early, leading to the expense of replacing.
If your slate, black Nero Marble or flagstone floor is looking dull, then your floor needs to be cleaned and colour enhanced.
Colour enhancing sealant does exactly what it says on the tin, it enhances the natural colours in the stone, giving it a vibrant, EYE CATCHING look.
Key Benefits:
Freshen up your floor
Enhance colours
Remain in a clean condition.
Avoid the cost of early replacement
Protects and strengthens.
No more dull looking floors
Please Note: Your slate floors will need to be re-sealed every few years to maintain the colour.
Choose Your Beautiful Finish
Want the original colour of your floor replenished? A complete colour change or an added shine?
Whatever the case, we have a wide selection of floor sealants, waxes and finishes that can restore the existing finish or completely change the LOOK and FEEL of your floor while creating a whole NEW ambience of your home.
Colour Enhancer for Slate
Applying a colour enhancing sealant is required if you want to enhance the colour of your stone floor.
Take slate for example, colouring is often necessary if you want a darker effect to add an ATMOSPHERIC look to your room.
Vitally important, we will seal your floor to keep it looking beautiful and to maintain its charm.
For a free quote for stone floor cleaning Bristol, call us now on 07716 364 148.
Optional Types of Finish for Limestone, Marble and Travertine
Adding a BEAUTIFUL FINISH to your floor can make ALL the difference.
I'm not just talking about appearance, but from a practical point, it makes cleaning and maintaining your floor EASIER.
Quality Polish – Most Popular
Stone polishing is the most popular choice due to it being the most practical, hardwearing and attractive option.
Yet, better still
It requires little maintenance.
Our polishing service comes in 4 different levels of sheens.
Matte
If you're not the shine loving type, then a matte finish is best. A matte finish will only give off about 10% sheen.
Subtle Satin
Satin has a nice subtle, delicate gloss to it. Averaging between the matte look and the semi-gloss, it has about 50% sheen to it.
Semi-Gloss
This option will offer a beautiful shine (about 60-70% sheen) while leaving a smooth, moderate shine.
Gloss
LOVE Shine? Me Too!
Well, at about 90% sheen, you're looking at a high shine indeed. This option will defiantly make an impact.
We Restore All Types of Hard Floors
We specialise in restoring and polishing of all ages and styles of manmade or natural stone flooring across Bristol including:
Marble
Travertine
Limestone
Slate
Terracotta
Luxury Amtico Vinyl
Flagstone
Porcelain and Ceramic
Plus, we have a wide range of sealants, waxes, topical finishes and colour treatments in our armoury, so we are able to create beautiful, charismatic finishes to your liking.
Specialists Stone Floor Cleaning and Polishing Process in Bristol
Clean, Seal and Polish for Marble, Travertine and Limestone Stone.
1. Firstly, Kevin and I will make sure there are no objects protruding up from the floor that may be hazardous.
Once a detailed check of the floor is done, I will vacuum the floor to remove all debris (while my husband Kevin, gulps down his coffee while he has the chance!).
2. Using our Rocky (rotary machine), Kevin will start to clean down your floor.
While Kevin's doing that, I will use an edging machine to clean right up to the edge and corners where the rotary machine can't reach.
Honing Process
3. Now the honing process begins. Either a diamond/resin disc or honing powder will be used to hone the floor. This removes any light scratches and wear by taking off the top layer of the stone.
The polishing process is based on multiple stages using diamond or resin discs of different grits that you work your way up to a smooth finish.
For e.g. we usually start with a 400 grit (very coarse) up to a 15000 grit (very fine).
4. The final, yet important stage of the process involves rinsing the floor.
Rinsing the floor involves using a spinner that pressure washes the floor. All water is confined to the head of the tool so no water escapes.
This stage makes sure no stone debris is left behind.
Better still, it creates a beautiful smooth finish for the sealant to adhere to.
Sealing
5. Once that's done, Kevin will begin to apply the sealer of your choice using the correct technique that only comes with experience.
Usually, we use stone soap or an impregnator for the stone to finish and protect your floor. For terracotta and Victorian tiles, we will use a wax or topical finish.
Sealing process will strengthen, protect and add shine if desired.
But most importantly…
Add charm and beauty to your stone floor.
Now you're left with a "LIKE NEW" floor that's lifted the whole room and brought added beauty to your home.
Have a question or would like a free quote for Slate, Marble or Limestone floor cleaning Bristol?
Then, simply call Kevin now to discuss your needs on.
See our other award winning services also.