Award Winning Upholstery and Sofa Cleaning Swansea
CSB upholstery and sofa cleaning Swansea are an award-winning local family business offering high-quality upholstery cleaning in and around the Swansea area.
What you'll get from our sofa cleaning service:
POWERFUL truck mounted deep clean
Removes unwanted bacteria, dirt and grease
Brightens up the colours
Leaves them soft and cosy
FREE deodorise
100% delighted or your money back
Sarah took advantage of the benefits and see this is what she said…
"So glad I chose CSB. My sofa looks amazing as if they are brand new. Both were thoroughly cleaned and stains were removed. Fantastic price too! A professional team and Mair & Kevin are so highly knowledgeable. Thank you so much. Highly recommend CSB!" – Sarah Martin.
Watch the Dirt being Removed from this Upholstery
Ever wondered how we remove the dirt from your upholstery? As carpet cleaners in Swansea, it's pretty much a similar method. Just watch, enjoy and be amazed! More videos on our Youtube channel.
SAVE Even More Money!
Why not get your other furnishings done at the same time and SAVE even more money?
Furthermore, we guarantee your complete 100% satisfaction or we'll give you your money back.
What's So Different About our Sofa Cleaning Company in Swansea
Over the years we have cleaned thousands of sofas and have achieved INCREDIBLE results with our system in the Swansea area.
Our gentle and effective cleaning system cleanses your upholstery and conditions your furniture while leaving them FRESH and cosy.
How is this possible?
As professional upholstery cleaners in Swansea, it all comes down to this.
We use a POWERFUL truck mounted steam extraction system along with our knowledge and experience (25 years in truth!).
Oh, and not forgetting, selectively choosing the right solutions for the job.
All this enables us to remove dirt, stains and bacteria from deep within the roots of the fabric.
But at the at the same time BRIGHTENS colours while leaving your sofa beautifully CLEAN, soft and dry.
Award Winning Approved Sofa Cleaners in Swansea!
Kevin and Mair Hunt are FULLY trained & certified by the TACCA (The Approved Cleaners Association) and fully insured for accidental damage and public liability, so you can have TOTAL peace of mind when you choose us to carry out your work.
We are passionate about achieving the BEST possible results for our customers and that's why we were AWARDED by TACCA for our commitment and exceptional cleaning achievements.
Sofa Cleaning Removes Germs and Relieves Allergies
As you probably know, your furnishings can be home to vast amounts of BACTERIA and contaminants.
Not forgetting, the little pesky moths and dust mites that are commonly found in human habitats, such as your sofa.
Thankfully, we have a solution.
Our truck mounted steam extraction process completely KILLS all traces of those nasties in your sofa.
Below is a 3 seater sofa that was in desperate need for a sanitisation. After a thorough clean and sanitise, the sofa looked "LIKE NEW" once again.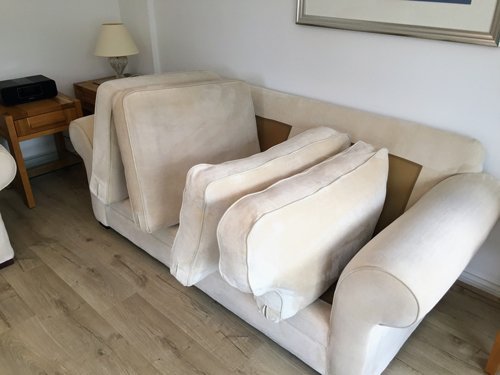 And here's some great news for you.
Sanitisation of any sofa is included FREE in all our cleans.
Yet, besides improving the cleanliness of your environment, sofa cleaning can help to RELIEVE allergy symptoms and eradicate stale or musty smells.
Save Money and Relax in your Freshly Cleaned Sofa
Want to know how you can SAVE money on your cleaning?
Here's why and here's how.
Let's assume, you have a 3 piece suite and fabric flooring. I suppose you could have your settees cleaned and then your flooring on a later date.
Although, wouldn't it be a good idea to have them done at the same time. Saving you on the inconvenience.
You'll be glad to know that it's cheaper too.
This is because all sofa cleaners in Swansea have to imply a minimum charge to cover set up costs. Getting all your furnishings done at the same time means you don't have to pay the minimum charge twice.
Happy days, right!
How we Clean your Sofa and Upholstery
Our 9 step upholstery cleaning Swansea process along with our investment in the most modern, state of the art equipment, ensures that we can get the BEST results possible and FAST drying times.
Step 1. Inspection and Overview.
Firstly, I (Mair) will pre-inspect your sofa and perform a special test to determine the content of your fabric. The fabric content will determine what type of cleaning solution and technique we will need to use. We will also point out any potential permanent stains or areas of concern.
Step 2. Dry Soil Extraction.
In the meantime, Kevin will be vacuuming your textiles thoroughly BEFORE cleaning. This step will remove up to 85% of the dry soil and any loose particles from the cracks and crevices.
Step 3. Pre-stain Treatment.
Prior to any cleaning, we will pre-treat any spots or stains first. This ensures the EFFECTIVE release of any stains that are treatable.
Now the cleaning begins
Step 4. Toddler And Pet Safe Pre-Spray.
Depending on your type of fabric, a designated cleaning solution made specifically for your fabric type will be applied to all areas of the fabric, leaving it to loosens and breaks down all the dirt that extraction alone can't, this also speeds up drying times. This low moisture method of cleaning stimulates drying times.
Step 5. Gentle Buff.
While the solution is working away, both of us will aid the solution into all the fabric fibres by using a buffing technique. This speeds up the process.
Step 6. Extraction and Rinse.
The soils are then POWERFULLY extracted from the fabrics with a professional, gentle, and controlled rinsing tool, leaving behind NO cleaning residues and your fabric almost dry (see video above).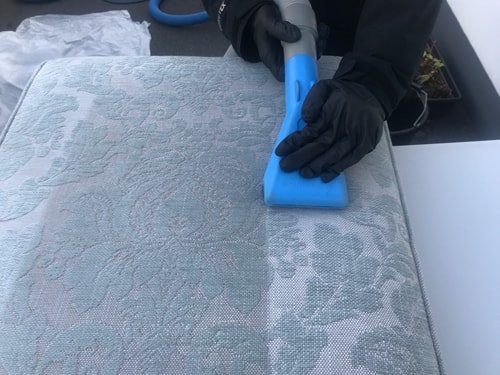 Step 7. Post Grooming.
Once the cleaning stage is complete, we then gently groom the fabric to reset and stand the pile up correctly, which again stimulates drying times and overall appearance.
Step 8. Speed Drying.
High-velocity air movers will be set around your furniture to stimulate drying times.
Step 9. Are You 100% Delighted?
Lastly, we will happily inspect your sofa with you once again to ensure your 100% delighted.