Pest Control Insect and Carpet Moth Removal
Kevin and I (Mair) are your local fully qualified Textile Insect Pest Technician providing certified carpet moth removal throughout South Wales, including The Vale of Glamorgan.
We know your beautiful wool carpets cost a substantial amount of money, and the last thing you want is a moth infestation.
Carpet Moth can be detrimental to your carpet and needs immediate attention.
Our moth removal service can save your beloved carpets from those hungry pests! We offer complete removal of larvae, adults and eggs.
A Pesky Little Insect
Although moths pose you no health risks they are however branded as pests because of the detrimental effects their larvae have on your wool carpets.
The larvae of the Carpet Moth is what actually causes the damage. They feed on the natural protein Keratin found in wool, hence why you only ever find Carpet Moth in wool carpets.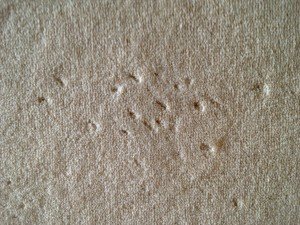 We have been cleaning carpets for donkey's years, so we know what to look out for.
But If you notice balding patches on your wool carpet, the chances are your carpet is already under attack.
What Is Carpet Moth? See Our Video Below
From egg to adult, here's everything you need to know about carpet moths.
Our Solution to Carpet Moth Removal
We have considerable skill and experience in dealing with carpet moths that regularly invade households.
Pesticides tend to have a bad name due to their proposed health risks to humans and our environment.
That's why we have made a commitment to use the safest form of treatment solutions available.
Even though our carpet cleaning service can remove the moths, it will not remove the problem itself.
Our moth treatment is usually carried out in two visits.
Why two visits?
One of the real issues with moths is that their eggs are non-permeable.
So, even though the adult larvae are killed, the larvae will eventually hatch from the eggs and continue to eat your carpet fibres.
A second visit will ensure that all the larvae are completely eradicated.
The annoying thing is, Carpet Moth can be a year-round problem, hence we highly recommend that you continue an annual treatment regime.
We offer flexible management plans to suit you.