Award Winning Upholstery and Sofa Cleaning Pontypridd
Get an award-winning clean with our upholstery and sofa cleaning Pontypridd service.
Consider the following benefits:
Truck Mount Steam Cleaning
Look and feel clean and cosy
Remove bad odours
Get rid of bed bugs, fleas and dust mites
Extend the lifetime of your sofa
Feel better and more relaxed in your sofa
But wait, consider us as your carpet cleaners in Pontypridd while you get your textile floors cleaned the same time. You will SAVE A LOT of money.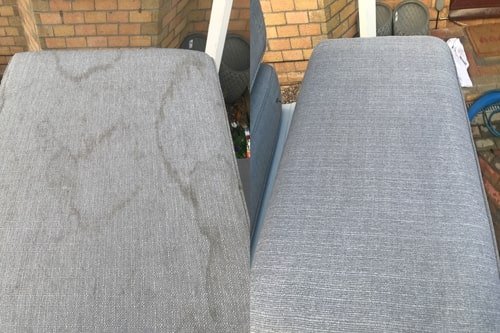 Quick Snapshot of Removing Dirt From a Sofa Cushion in Pontypridd
Just a quick teaser video of me (Mair) removing some stubborn dirt from a sofa cushion.
Incredible Results With Our Professional Sofa Cleaning In Pontypridd
Is your sofa looking rather unsightly? Turns out we have just the solution.
As you can imagine, this armchair below was immensely tricky to clean.
We used all our might and skills to clean and restore this armchair to a wonderful condition for our customer.
Save Money with a Combined Package for Upholstery Cleaning Pontypridd
Getting your settee, couch, armchair or sofa cleaned along with your floor coverings can be a real money saving option.
How so?
Well, for one thing, we don't have to return to your property for the second time. Saving you the minimum call out charge we have to impose to cover petrol and time etc.
Also, our upholstery cleaning prices drop considerably by having more items cleaned in one visit from our upholstery cleaning company in Pontypridd.
Look at the results of these lovely fabric cushions we cleaned and freshened up for a sofa cleaning customer in Pontypridd.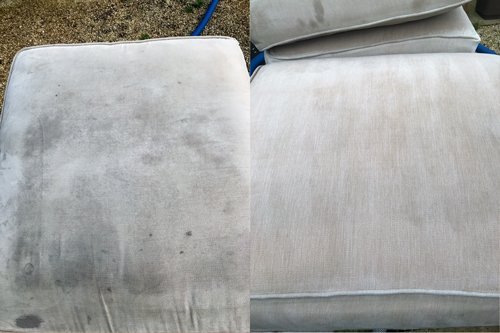 Just imagine your whole house smelling and looking CLEAN and FRESH in just one visit.
4 Benefits of Choosing us as your Sofa Cleaners Pontypridd
I think you'll agree with me that when you first bought your sofa in Pontypridd, you no doubt took great care and attention to it.
No dog on the sofa, no eating on it and perhaps you even covered your upholstered settee with a lovely fleece blanket.
Yet, over time, the blanket ends up constantly slipping from underneath you and you end up throwing it off.
Nevermind the no pet and eating rule out the window. Yes, I've been there. We all eventually stop caring as much and just accept that, as it ages, it gets dingy and dull looking.
Besides, you can't say no to a cute face like that!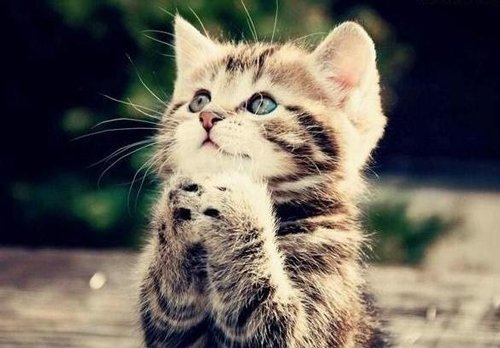 Now is the time to do something about it. Read the following great benefits.
Appearance
Obviously, appearance is a major benefit. There's nothing better than inviting guests around or having a family gathering and be able to offer them a sit down without the embarrassment of a dirty sofa.
Odours
Pets, people, shoes and whatever else that has sat on your sofa or upholstery, has likely left an odour.
But, the good news is though…
…all our cleans includes a FREE deodorization. Your upholstery and sofas will not only be clean but smell delightful as well.
Durability
Did you know? Microscopic dirt particles get embedded in your sofas fabric and rub against and scratch the fibres causing them to wear quickly.
Upholstery cleaning will quickly remove these particles and will extend the life of your upholstery.
That means, no more forking out for a new 3 piece suite, which, mind you, cost an arm and a leg these days.
Allergies
Your upholstery fabric acts like a filter. Trapping any pet dander, pollens, soil, and dust that can cause respiratory problems.
Like any filter, it needs to be emptied at some point. Professional upholstery cleaning will remove these problems and create a healthier home environment.
Happy days!
Get a FREE quote for sofa cleaning Pontypridd now.