Free Demo Clean For YOU!
Ever feel FRUSTRATED with your Stone and Tile Floors?
Like you're spending a lot of time and resources on cleaning your hard floors and just not getting the results you want?
You're not alone.
Many people feel this way.
Here's something that may surprise you…
Sometimes applying the wrong product or using excess amount isn't just pointless it's damaging.
When you're looking to get the Sparkle back into your hard floors, it's important to know exactly what you want and what you're getting when choosing a company.
So, Say HELLO to Beautiful Floors!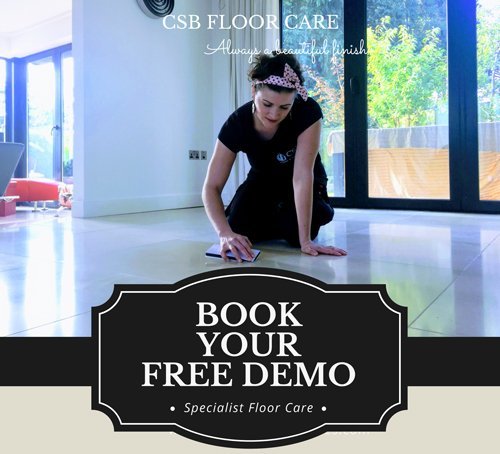 Using our advanced cleaning and restoration system we are able to completely transform your hard floors back to a LIKE NEW condition, making you feel proud again of your much-loved floors.
And here's the big news: You can have a sneak peek at your floor's potential.
Meaning… (drum roll please)
We will carry out a FREE demo clean so you can SEE for yourself your floors potential and choose your DESIRED look!
AND if you call today and book your FREE hard floor demo, you'll receive a FREE BONUS BOTTLE OF SPECIALIST FLOOR CLEANER, (lasts 6 months) designed to help you clean and maintain your floors correctly.
Yes…I Want My Free Demo!
Everybody has an individual taste when it comes to stone finishes. Some prefer the matte look, others a gloss or satin finish and some love the high shine lustre. That's why carrying out a demo clean is a crucial part in getting that showroom look you personally desire.
By offering a Free demo, this gives you the opportunity to choose your desired finish and see what your floor will look like overall. Furthermore, it gives us the insight to evaluate and deliver precisely what YOU want as a valued customer.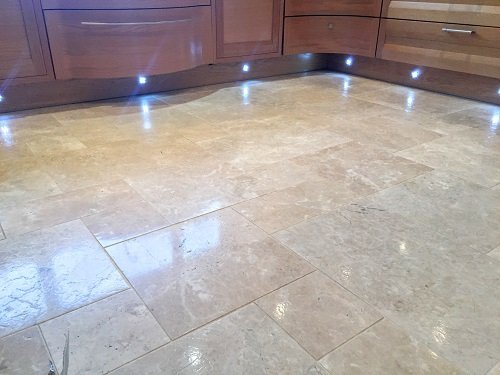 Whether it is just a simple clean and seal, gloss, satin or high polished finish, It is always better to see it before work commences, to ensure your 100% happy.
Can you remind me what I'm getting when I book my FREE demo clean?
Firstly, we will talk through with you what you have in mind, what type of finish are you after and answer any questions or concerns you may have.
Then we will clean a small section (1 or 2 tiles) with our specialist equipment and treat the grout lines.
Here is Kevin below cleaning a Marble tile prior to polishing. You can SEE the difference in contrast already.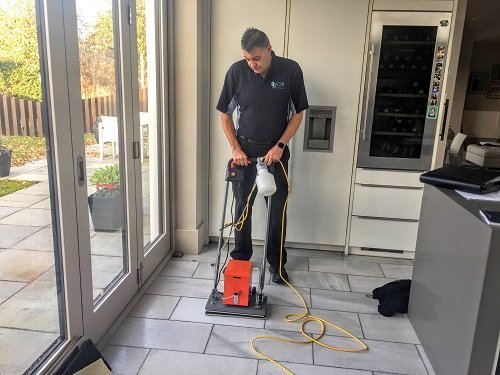 And if you desire a certain level of shine, we will start with the lowest grade of diamond pads and gently polish the surface of the tile. We will gradually work our way up stage by stage. We ask that you inspect each stage until you are happy with the desired shine and finish you prefer.
The complete process will take around 30mins.
The exciting news…
From now on, if you book your FREE demo clean, you'll receive the following:
FREE BONUS BOTTLE OF SPECIALIST FLOOR CLEANER!
You'll walk away with our specialist cleaner you can start using immediately.
If you would like to Book your FREE demo then call Kevin or Mair now on 01656 859 611 / 07716 364 148
Still Wondering?
My goal today is to answer your questions and help you feel 110% confident that this offer is the missing link that could turn your hard floors into the centre of attention (…and can yield unprecedented results).
So let's jump right in … here are the most common questions I've been asked about our restoration service.
1. How do I know you're as good as you say you are, Mair?
Awkward question 😉
You could check out a handful of case studies on our website.
Or you could listen to the "influencers" in the space who know us best…
"…Mair and Kevin are the top people in South Wales. If you have a chance for them to work for you, don't miss the opportunity…" -Annette Laurence.
"I don't know of anyone who gets my floor looking amazing and maintained better than Mair and Kevin." -Lianne Gardner.
Hope that helps?
2. Is this really risk-free?
Yes, I don't want you to stress at all. Free, No obligation quotation. Full liability insurance on all work we carry out.
3. My floor is ancient, greasy and muggy – is this for me?
This is an easy one…
YES.
In fact, our process is designed specifically to treat all types of floors and conditions, from beat-up floors to newly laid…
This is precisely why we carry out a free demo. You'll discover once again your floors long-lost shine.
YOUR to-do list this week:
Take a look around our website
And make sure you're NOT making any terrible floor mistakes.
Visit our recent case studies and projects
Book your FREE demo
Sit down, relax and have a drink!
So that's all I've got for now.
At this point, I'd say it's safe to say that your questions have been answered.
You should have everything you need to make a well-informed, intelligent decision.
Happy Surfing!