Award Winning Carpet Cleaning Bridgend
Kevin and Mair are award-winning carpet cleaners delivering outstanding carpet cleaning Bridgend and throughout South Wales.
You'll LOVE your Dry, Bright and Beautifully Clean carpets again.
Let's take a look at what our cleaning service can achieve:
Rapid Drying Times (dry in as little as 2-4 hrs)
Clean and Fresh Smelling Carpets
Competitive Carpet Cleaning Prices and Offers
FREE Deodorising and Sanitising
Kills Germs and Bacteria
Efficient Workmanship (most jobs completed within 1-2 hrs)
Plus, when it comes to sofa and upholstery cleaners in Bridgend, all the above applies.
And the best part.
All done at a Fantastic Price!
"Really polite and professional people. My carpets look new and they were so quick. I cannot rate them highly enough. Every time I have my carpets cleaned I will be definitely using Kevin and Mair. 50 stars from me! x." – Natalie Cox from Bridgend.

How We Get Your Carpets Looking Fab? See Us In Action!
Frustrated with dirty carpets? We suspected as much. Just watch and be amazed.
Guaranteed Carpet Cleaning Service in Bridgend for The Cleanest and Freshest Carpets - Or It's Free!
If you are not 100% delighted with our spectacular carpet cleaning service in Bridgend, we will happily return and re-clean any area free of charge.
If you are still not satisfied, we won't accept your payment and your cleaning is FREE – Kevin and Mair.
Carpets So Beautiful You Won't Believe it!
Carpet Cleaners Bridgend: Kevin and Mair, What Makes you so Different from other Technicians?
Before I go on, I'd just like to say that Kevin and me (Mair) attend every sofa and carpet clean in Bridgend. We also specialise in rug cleaning.
And just to say, our results are unbeatable. For instance, take a look at the difference with this stair carpet: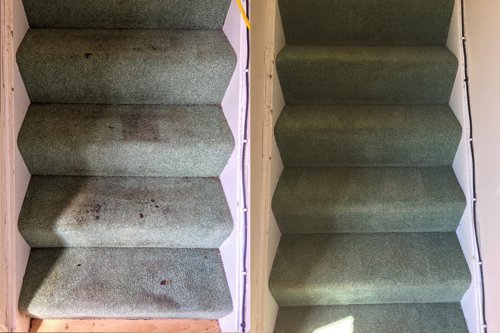 So let's get to it.
Hundreds Of People in Bridgend Choose Us Every Year
Whether it's a one-off carpet cleaning service you require or a regular visit from us, we strive for excellence and your complete satisfaction in our carpet and upholstery cleaning service.
The bottom line is…
…the reason why our carpet cleaning company in Bridgend has been so successful is due to the repeat custom and positive word of mouth from our customers.
Read on and see the many reviews we have from people just like you.
Ow, how happy they were after seeing their lounge carpet, stairs and rug cleaned with our truck mount system.
Carpet Cleaning Reviews
Lisa Jones the lovely wife of The Former Minister of Wales, Carwyn Jones made this comment.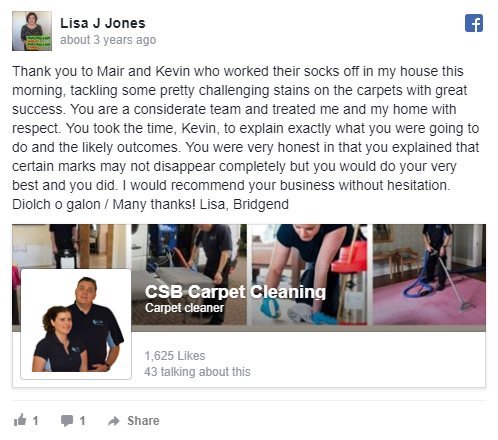 If that isn't enough, here's more rug and carpet cleaning reviews:
"Kevin has left the building! Leaving my carpet looking like new!!!. What an amazing, friendly and professional service. Full preparation and thorough deep clean. Moved my sofa and gave excellent advice, and all done with a big smile. I will definitely be using them again. Once again thank you." – Donna Britton.
"Excellent service. Good advice about options beforehand with no pressure or upselling. Cleaned my very dirty stair, study and landing carpets and now they look like new again. Also, they cleaned my very dog abused deep pile rug – it now looks (and smells!!!) so much better. Highly recommend their friendly and professional service." – Carolyn Sayce
Thirsty for more??
Put your Gregory specs on because we have plenty more reviews on our Facebook page.
Plus, take a peek at our before and after pictures while you're there!
The Best Carpet Cleaning System in Bridgend That's Fully Efficient
Well, for one thing, no other carpet cleaning machine in Bridgend can offer the power and outstanding results of our Truck Mounted steam extraction cleaning system.
PROVEN and recommended by the leading carpet industry, steam extraction is the best cleaning method there is.
Besides that…
Our POWERFUL professional truck mounted machine has IMMENSE suction. Therefore our machine can extract all the dirt and moisture from deep down in your carpet pile.

And guess what?
We don't need to use your water or electric. Our van mounted machine runs on petrol (it's actually a powerful engine, pretty cool yeah) and we carry our own water.
To top it all off
We are Award Winners!
Offer: Lounge + Hall Carpet included for FREE!
Winners of The National Carpet Cleaning Award for Bridgend
Mair was Awarded First Place and Winner of the National Carpet Cleaner Of The Year by TACCA out of the whole of the UK. We truly are National Award Winners!
Awarded for our exceptional knowledge in the science of carpet cleaning, floor restoration, and our outstanding cleaning achievements and informational Youtube videos.
TACCA (The Approved Carpet Cleaners Alliance) only offer membership to fully qualified, trained, insured and reputable carpet cleaning companies (like us) of a certain calibre.
Smarter Approach To Carpet Cleaning in Bridgend
Our method of a smarter way of to carpet cleaning.
SMART
Our Smart time-tested cleaning method is a multi-stage process that involves our advanced cleaning equipment, breakthrough formulas, our extensive knowledge, experience and training. All combined with the intelligent method that's enabled us to deliver the best possible cleaning results fast, hassle-free and at the most competitive prices possible.
CLEANING
Our leading-edge smart cleaning solutions work on molecular levels. They break down the dirt and soil molecules into tiny particles which enable our Truck Mounted cleaning system to remove them effortlessly. Because these smart solutions do all the work prior to extracting, we are able to use less water which means fast drying carpets.
TECHNOLOGY
We use high heat which boosts the cleaning products effectiveness and efficiently helps to kill virus and bacteria. In addition to that, we can remove the dirt and soils without causing damage to your carpet! As a result, your carpets are left Hygienically Clean!
Your Overall Checklist of our Carpet Cleaning Company in Bridgend
Non-damaging, eco-friendly solutions are used to prevent colour or damage fibres. And it's safe for babies, pets and you.
Superior clean. We have invested in the MOST powerful carpet and upholstery cleaning equipment available in the UK. This gives Superior Results compared to ANY other electric units, brought into your home – Guaranteed.
And this is proof! Look at the before and after picture of our most recent carpet clean: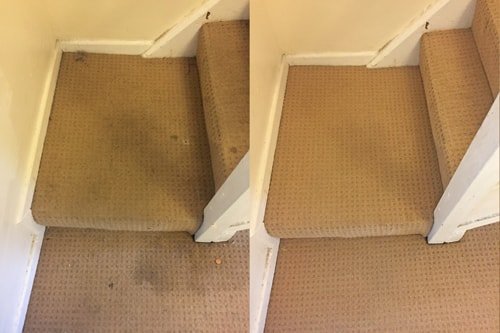 Fast drying carpets and fabrics. Our cleaning system is designed to leave your carpets as dry as possible so you and home can get back to normal within a short space of time!
No re-soiling. Our cleaning method ensures no residues are left behind so your carpets stay cleaner for even longer.
For residue free sofa cleaning, see our upholstery & sofa cleaning Bridgend. We also provide tiled hard floor cleaning, carpet cleaning Maesteg, Cowbridge and all major towns.
No Minimum Wage Staff Used. Who may have no care for your furnishings or your home (this happens a LOT with other companies!). Kevin and Mair Hunt attend every carpet and upholstery clean.
Liability AND Treatments Risk Insurance. You can book CSB with peace of mind knowing that your carpets and upholstery will be in safe hands.
Approved By TACCA. Qualified members of The Approved Carpet Cleaners Alliance.
Our 8 Step Comprehensive Carpet Cleaning Process in Bridgend
Before we embark on your amazing rug and carpet cleaning experience:
NOTE: We kindly ask you to please remove any breakables and items from tables and other furniture that will be moved by us.
Remove ALL small items such as boxes, magazines, shoes, toys etc. in the areas to be cleaned.
Also, we kindly request that you arrange for pets and children (and husbands, ha) to be away from the area where we are cleaning for safety reasons.
This is the same process we use for rug cleaning in Bridgend.
Pre-Inspection
As a matter of first importance, each of our incredible carpet cleaning experiences begins with a proper and careful pre-inspection.
Essentially, this involves identifying the backing, the construction, the fibres, checking for stains and whatnot.
This is VERY important because this initial survey will determine what method we need to use to provide the optimum clean specifically for your lovely carpet.
Either I or Kevin will make sure that you are fully aware of any health and safety issues while we carry out the clean and we will always ask whether you have any questions, worries or concerns.
We want you to be 100% happy from start to finish.
Dry Soil Extraction
We then thoroughly vacuum your carpet with a commercial grade high filtration vacuum cleaner.
My favoured vacuum cleaner for this is…the Kirby vacuum cleaner.
Simple because it's a great powerful machine.
It has a beating brush that beats the carpet as you're vacuuming, which is great for removing dust, dirt and it's brilliant for picking up pet hair.
This step is to REMOVE as much dry soil as possible. Up to 85% of the dirt is removed.
Either way, removing as much dry soil as possible is one of the most important steps in cleaning a carpet, one that we take very seriously.
Pre-Spot Treatment
Kevin or I will use speciality spotting techniques to remove any stains. Note: At this point, we can make you aware of any stains that are permanent.
Treating stains that are treatable beforehand ensures complete removal.
Furniture Moving
We will carefully move sofas, chairs, tables and any other furniture that's moveable. Larger pieces, for example, display cabinets and large TV displays will be left in place for safety purposes.
Pre-Spray and Gentle Buff
We will pre-spray all areas of your carpet using our unique non-detergent pre-spray that breaks down all the dirt particles and kills all those nasties in your carpet like viruses and bacteria.
Moreover, the benefits of this are, it gets your carpets HYGIENICALLY clean while protecting YOU and your loved one's health.
Next, we then delicately buff the carpet fibres with one of a few various machines we have that we feel will perform best on your type of carpet.
OK, I know what you're thinking.
What is buffing and what does the machine do exactly?
Quite simply, our machine gently brushes the solution into all the carpet fibres (it's what we call buffing), loosening all the dirt and nasties and breaking them down so they will be easier to remove on the next step.
A Breakthrough System – Rapid Drying Steam Extraction Cleaning:
Once the soil has been loosened, our state-of-the-art high steam extraction process will thoroughly flush your carpet pile with an organic rinsing agent.
We carefully regulate the pressure and heat so your carpet is THOROUGHLY cleaned.
But you know what else?
Our truck mount can heat clean water up to 230F which not only breaks down grease and soils but also has the added benefit of killing and eliminating any bacteria, viruses, bugs and dust mites.
Astonishing, isn't it?
And get this…
Our machine is designed to leave your carpet as DRY as possible. Realistically your carpets will be bone dry within 2-4 hours at the most.
But the bottom line is this.
Because our machine removes MORE water, we are able to rinse the carpet more thoroughly.
In fact, the amount of water flowing through carpet fibres is the most important factor that determines whether a cleaning is thorough.
The benefit of using our truck mount is, we don't need to use your electric or water to clean your carpets.
Needless to say, it also makes the job quick and efficient so you can enjoy a cleaner, healthier home environment in no time. Which means you can get back to enjoying the rest of your day.
Post Grooming
We reset the carpet fibres by grooming your carpet gently. This raises the pile, therefore helping your carpet dry even FASTER and furthermore, improves visual appearance.
Post Inspection
Lastly, we then invite you to walk through your home or business alongside us and inspect our work.
Have any questions for us? or would you like to BOOK our carpet cleaning Bridgend Service?
Just simply call Kevin or Mair now on 07716 364 148 or 01656 859 611 for a FREE quote.
Does Your Area Include Carpet Cleaning Near Me? Yip, of Course!
We've been in the carpet and upholstery cleaning industry for over 25 years.
Our services for carpet and rug cleaning in Bridgend includes the following areas:
Bryncethin
Brynmenyn
Broadlands
Brackla
Coity
Kenfig Hill
Pyle