CSB Smart Cleaning Technology
Choosing a local carpet cleaner can be a difficult challenge for homeowners.
With so much choice and the ease of contacting cleaners in your area using the internet – finding someone is easy, but finding someone who will provide a quality service is still a challenge.
I have spent hundreds of hours cleaning, testing, studying and creating my own bespoke cleaning process and method for carpets, sofas and hard floors.
Finally, I have created SCT (Smart Cleaning Technology).
What Exactly Is Smart Cleaning Technology?
A very good question. To clean a carpet, settee or hard floor, a technician usually follows a system or method.
Many technicians have various ways of doing things and I've listened and tried many of them.
Finally, I've developed a method on what I've found works best, which I follow religiously and it has delivered amazing results.
Take a look at this armchair below. I transformed this armchair FROM THIS…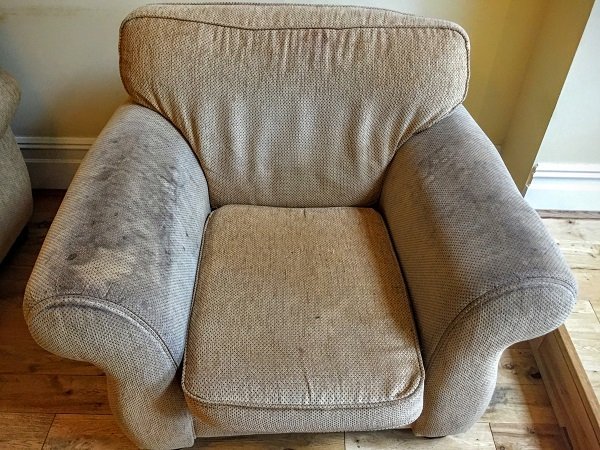 TO THIS…
The results speak for themselves!
So, does that mean no matter what the extent of the dirt and stains on a carpet or sofa, you will always achieve amazing results?
Sadly, No, not always. Why's that?
Because some things are just unrecoverable.
This can be down to permanent stains, fibre construction and content.
For example, a dye is a permanent stain.
A dye is a coloured substance that has an affinity to the substrate to which it is being applied, hence it will change the colour of a fibre.
Take your blue jeans for instance, no matter how many times you put them through the washing machine, they still come out blue.
So, how do you do it? What's your secret?
Well, let's start with our monster of a machine.
Hydramaster Boxxer Truck Mounted System
It goes without saying that carpet cleaning is a tough physical job and takes painstaking effort, skill and knowledge to achieve optimum results.
But it also requires determination – determination to achieve and create the best method and process.
Let's start with our Hydramaster Boxxer Truck Mounted Cleaning System.
I own and operate one of the most powerful carpet cleaning machines available.
Numerous carpet technicians have sworn by their power, unwavering quality and the fact that they outrank portable machines in many ways.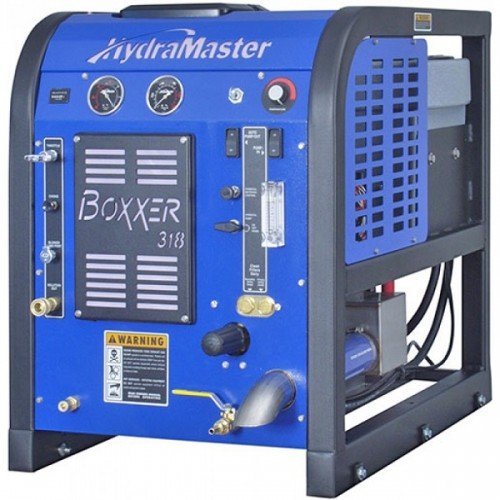 Van mounted systems are powered by petrol engines which do not require using the homeowner's electricity or water.
Truckmounts produces fast results with immense power compared to portable machines.
In comparison, it's like using a JCB to dig a swimming pool rather than a shovel – you understand what I mean right?
You've mentioned fast results, but what makes these machines produce better results?
In 2 words – Heat and Power!
Truck Mounts produce Extreme Heat, which explains why many technicians use the term steam extraction.
Higher steam temperatures have many advantages.
Steam cleaning enables faster and more effective sanitisation, effective in breaking down pollutants and removes more greasy soils with less water, resulting in less runoff (meaning faster-drying carpets and sofas).
And what's more…
At higher temperatures, chemicals are proven to be more effective.
Interestingly, heat increases reaction rates, heat sets matter in motion.
This means that heat increases the reaction of the molecular activity, helping to dissolve, melt, and loosen soils.
This momentum keeps disintegrated particles from sticking when they collide.
Rather they bounce off each other or disperse in an expanding fluid making emulsification of soils easier.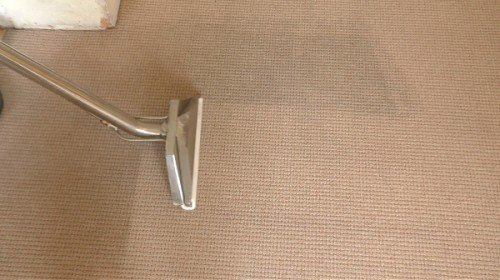 Yet, does that mean by using a truck mount you'll achieve amazing results? The answer is NO.
In my experience, to achieve a superior clean, choosing the right cleaning solution along with a time-tested cleaning method and process is key!
Breakthrough Cleaning Formulas
Firstly, all carpet cleaning chemicals require training and mixing to the correct concentrations in order to be safe for the carpet fibres and users of the premises, this is especially important in areas where children may come into contact with the carpet.
Over the years, I have used and tested many solutions on various carpets and sofas.
The simple fact is, there's is NO super cleaning product that works for all carpets or sofas. There are several reasons for this.
There is a vast variety of different carpet fibres and textiles available.
Polypropylene, Wool, Nylon, Seagrass to name just a few, all unique constructed and all require a different approach to cleaning.
I've come to know and identify what works and what doesn't.
Below is a colourful rug we cleaned for a primary school.
The rug had been covered in soils having been left outside for a time also.
We used our SCT method and the rug went FROM LOOKING LIKE THIS…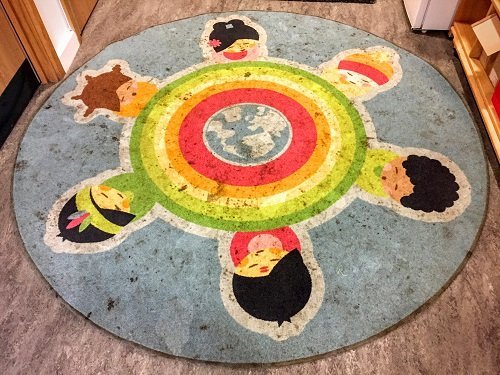 TO A LIKE NEW CONDITION…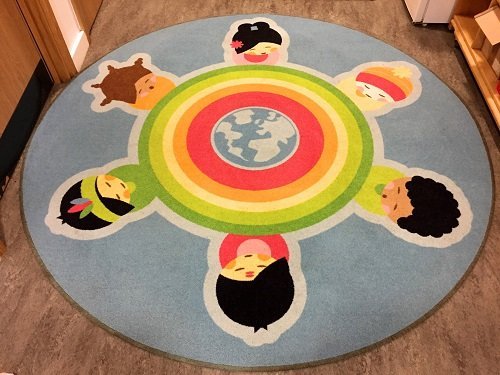 Dirt Busting Technology
It's true that detergent-based solutions have been around for years, yet over the past 10 years, smarter cleaning solutions have been developed and entered the carpet cleaning industry by storm.
I love our dirt-busting formulas.
I've found that using certain products in combination with my system has given me the best results I've ever been able to achieve and have even surprised me on many occasions.
Again, the results speak for themselves. I can honestly say, Our SCT method is certainly working for us.
What Are These Smart Solutions?
There is a wide variety of solutions that have been developed, some for general cleaning others specifically for problematic issues.
For example, the blood stains on the carpet below needed to be addressed in a completely different manner.
We not only had to deal with the colour stain but also had to deal with the biohazard side of it.

Majority of what we use are non-detergent base solutions that are eco-friendly, biodegradable and mostly derived from renewable plant-based sources.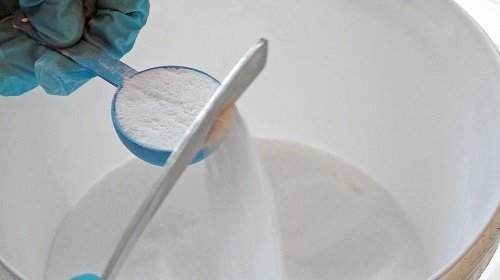 What I love most about our unique solutions is, they are totally free from added synthetic surfactants, oxidizers, reducing agents, bacteria, enzymes and hazardous solvents.
Furthermore, they can be rinsed out with using just water which minimises any residue left behind.
Any stain-resistant protection, anti-static or antimicrobial treatments are not affected.
How Do They Work?
Well, they certainly work from what you can see in the picture below. No kidding, this armchair was horrendously grubby.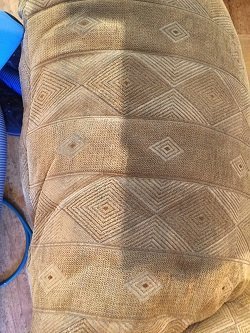 Without getting too geeky, some of our solutions work on a nano-particulate level.
They basically split the charged molecular chains that hold the soil together, breaking them down to colloidal particles.
The soil dissolves hygroscopic-ally once the bond is broken, making them easier to remove.
Other solutions we use work in a completely different way.
By using our solutions selectively, we are able to attack a dirt from different spectrums, resulting in a better clean.
What Next?
You've got the heat and the chemicals, what else is to it?
To effectively clean carpets and remove deep-set soils we rely on 3 essential elements.
Heat and chemical are the first two.
The third element is our method.
There's Always A Method To My Madness!
My method begins with
Effort (It's a physical job and this is vital)
Determination (If I'm going to do something, I'm going to do it right!)
Discipline (This can be hard for some. I never slack on any stage of my process, this is key to an ACE Job!)
Having the mindset of all of the 3 above makes the rest of the process easy.
Firstly, we begin with vacuuming the carpet or sofa.
It's best to remove dry soil other than wet soil.
You know yourself that when you get a bit of dust on your shirt, brushing it off when its dry tends to remove most of it.
You wet your thumb and try and rub it off and you end up smudging it in further and it stuck there. It's the same with carpet cleaning.
Vacuuming first will always make better end results.
After evaluating the carpet fibre, construction and soil state we handpick the correct solution.
We make sure we use the correct amount also. Over-application of a solution will inhibit optimum results.
Our Vast Array Of Buffing Machines
Buffing time! What's that? Most technicians call it agitation, I prefer the term buffing.
It's a term used when a technician brushes all the solution into all the fibres, a bit like massaging shampoo into your hair.
Is buffing necessary? Too right it is! All solution need to be distributed across the carpets or sofa fibres using certain machines.
This process is also a vital part in loosening soil particles.
What machine is it?
There are a few agitation machines out there. CRB, Rotary, Oreck for example, are all excellent tools to have in your armoury.
What do you use?
I use 4 different machines.
Why 4 you ask… Why not just 1? Because all 4 have unique capabilities.
Not all homeowners have the same carpet throughout their home, therefore, some carpets need to be agitated from a different spectrum for the job to be successful, hence why I carry all 4 machines on my van.
So whatever the challenge, I'm equipped to cover every situation.
Steam Extraction
Our Truck Mount is now put into action.
As you can see in the picture below, the prior stages have worked perfectly.
The dirt is easily being removed thanks to our Smart Cleaning Technology.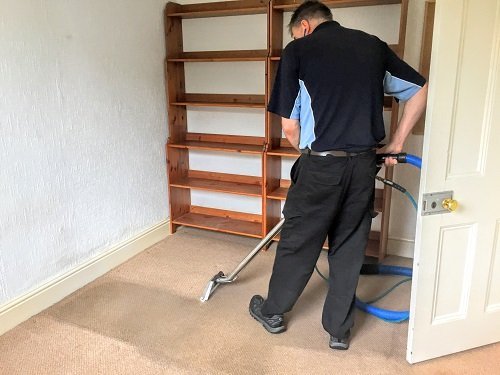 Hard Floors – Smart Floor Cleaning Technology
Cleaning and restoring natural stone floors is my passion.
I love all the distinct veins and unique characteristic.
No two stone tiles are alike and that's what I admire.
Man-made tiles such as vinyl have become more and more popular due to them being engineered to replicate natural stone or wood – some are rather convincing.
When it comes to hard floor cleaning and restoration, just like cleaning carpets, following a system is vital.
Smart Solutions
Our hard floor solutions work on a completely different basis to carpet cleaning solutions.
We use a variety of solutions, like carpet cleaning, there is no one cleaner for all.
Depending on the type of stone and the level of dirt and grime, after a thorough inspection and testing, we will hand pick the correct product.
What's So Smart About These Products?
Natural stone floors are very porous and have many pinholes and open fissures.
Over time, dirt, grime and grease can build up in these holes where regular household products will not be able to remove.
Our biodegradable cleaning products are designed to penetrate below the surface.
How is that possible?
Their molecule particles are very small enabling them to penetrate the pores and dissolve the grease and loosen the trapped soils.
We then use our rotary machine and Tilemaster to help with this process.
Our rotary below is used for large areas, providing fast efficient cleaning.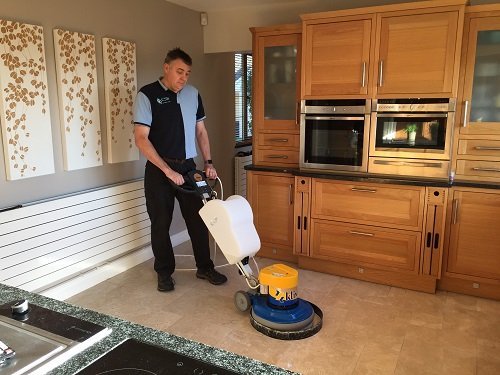 Our Tilemaster is a revolutionary machine.
It's engineered to vibrate the soils, dislodging them further.
I would not be without this fabulous piece of kit.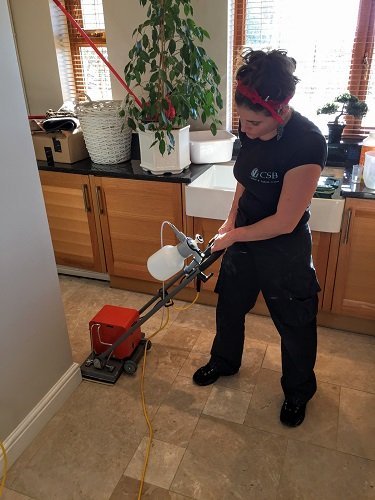 After I'm satisfied with the prior stages, it's time to rinse the floor.
Here is where our Truck Mount comes into action.
We use a fantastic floor tool that pressurises the floor while simultaneously extracting up all the dirt and water.
No overspray of water due to it's confined head.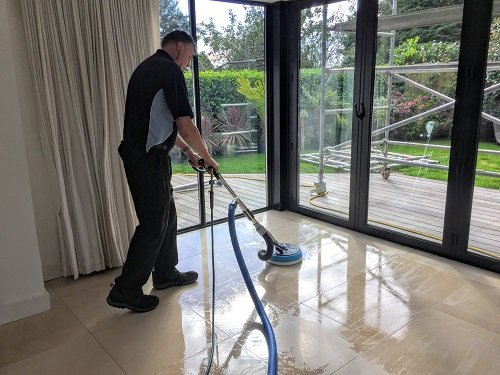 If it's only a clean and seal that the customer wants, then the cleaning stage is done. We will then apply a sealer to ensure long-lasting protection.
Extra Touch With Diamond Polishing
With natural stone, many customers want that beautiful long-lost shine back once again.
To do this, we need to diamond grind the surface to smooth out the dull or scratched surface.
We use the very best diamond pads engineered and has produced amazing results.
Below is a Travertine floor we recently restored to a gloss finish using our Smart Floor Cleaning Technology.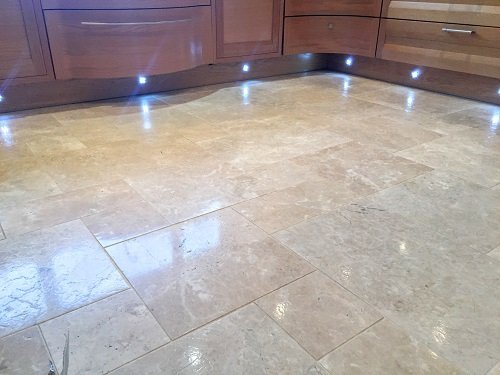 I'm proud of our system we use, so proud even, I've named and claimed it – Smart Cleaning Technology.
Mair x