Specialist Tile and Stone Floor Cleaning Newport
Hey there! and Thank You for your interest in our tile and stone floor cleaning Newport service.
Are you FRUSTRATED with your hard floors looking drab, dull or hazy? Not forgetting that annoying build-up of grease and dirt.
I'm guessing that's the case.
But, there's good news…
We can restore any natural stone or tile floor to a LIKE NEW condition.
You too can have a SPARKLING clean floor that can make your home interior totally unique.
Our Flawless Restoration Process
Flawless floors in all their glory! Take a look now.
Award-Winning Hard Floor Cleaning and Restoration In Newport
Natural stone and porcelain tiles designs are so beautiful and considering what they cost, it's worth keeping up the maintenance to save you money in the long run.
Kevin and I (Mair) are exceptional tile and stone floor cleaners and restoration specialists in Newport.
At CSB Floor Care, we deal with all types of floors including Marble, Travertine, Limestone, Granite, Terracotta, Terrazzo, Quartz, Porcelain, Ceramic, Slate, Victorian tiles and so on.
Furthermore, we provide a crack and scratch repair service so you can enjoy a flawless floor throughout.
So, The Question is, What Can We Do For You?
Helping you figure out what you want from your tile or stone floors is simple. Just book your free demo and head over to our example page and check out what shine level you would prefer (natural stone only).
Simply give us a CALL NOW >>> 02922 093 015
Our Services:
Polish and restore your natural stone floors to a matte, semi-gloss or high shine.

It's YOUR CHOICE!

A contemporary clean and seal for natural stone and porcelain tiles.
Fill holes
Crack and scratch repair
Apply colour enhancer (a sealant that amplifies your stone floors beautiful colours and tones).
Furthermore, we provide the cleaning of carpet and upholstery in Newport.
So, as you can see, we can do everything you want and nothing you don't want!
And…
Just so you know, this is us!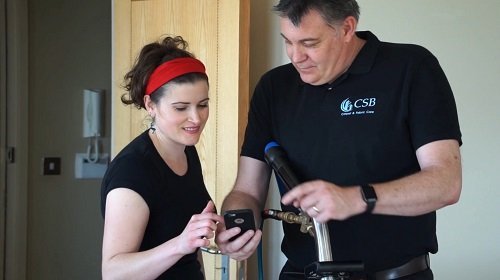 We are a hardworking, husband and wife team that LOVE restoring your hard floors and creating an aesthetically pleasing atmosphere in your home.
Not forgetting…
Years of experience in tile and stone floor cleaning Newport and throughout South Wales.
Take a look at our Award Winning work below.