Award Winning Sofa Cleaning Bridgend
Our award winning specialist upholstery cleaning Bridgend services offers a unique deep thorough cleaning process that provides CLEAN and beautiful upholstery.
See what's in it for you:
FREE sofa deodorization
FREE sofa sanitisation
Say goodbye to germs and bacteria
Extend your sofas lifespan
Dramatically improve the appearance of your home
Unbeatable clean at an Amazing price
Don't forget!
All our services are backed up by our 100% satisfaction money back guarantee.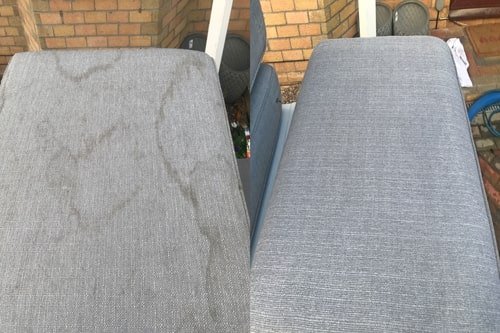 Removing Dirt, Grease and All Sorts from your Upholstery
It's kind of amazing how we remove dirt and grease from your sofas. Here's a quick teaser video. Watch and see.
100% Total Satisfaction Guarantee on your Upholstered Items!
If you are not 100% delighted with our amazing upholstery cleaning Bridgend service. We will happily return and re-clean any area free of charge.
If you are still not satisfied, We won't accept your payment and your cleaning is FREE!!
Remember, this guarantee also applies to our cleaning services.
We are exceptional carpet cleaners in Bridgend so therefore get all your furnishings cleaned the same day.
Upholstery Cleaning in Bridgend: Simply Outstanding Work!
This is just one of a thousand sofa's we have beautified with our smart system.
Our services are designed to meet your upholstery and sofa cleaning Bridgend requirements with the HIGHEST professional standards of sofa, couch or settee cleaning.
Undertaken by Kevin and Mair who are both professionally trained upholstery cleaners and qualified technicians in hard floor cleaning.
We recently transformed this sofa FROM THIS…