Hire Us And You'll Experience An Amazing Service!
1. Personal touch: When you take out a service of any kind, I always feel it's important to know who exactly is going to be turning up at your door.
The same persons that you talk to over the phone (me or Kevin) are the same persons you see pictures of on our website, will be the same persons that will be cleaning your home.
We will never subcontract out to our customers if I could clone myself then I would. It's our business and we are proud of it! Read our About Us page – We are simply just nice, honest people.
2. Prestigious Award Winning Cleaners: I was voted The Carpet Cleaners of The Year by over 800 top leading TACCA members out of the whole of the UK for my informative videos and outstanding work.
3. Top Notch Equipment: We have invested heavily in all of our equipment.
From our petrol powered Hydramaster truck-mounted cleaning system (which I call the Hydra Monster!), down to our Kirby vacuum cleaner.
Our quality equipment makes a massive difference and is a must needed tools to achieve optimum results. Some cleaners skimp on the initial investment and use inferior tools. Not us!
Our truck mount is used to clean carpets and sofas.
4. Detailed Comprehensive Process: Our cleaning method involves a multi-stage process that we carry out religiously.
You won't find us skipping steps or neglecting any aspect of your carpet. Our high standard process is thorough, comprehensive, and effective.
Every stage is as important as each other and when carried out correctly we can achieve amazing end results.
Many cleaners skip some steps to save time but this will only end poorly.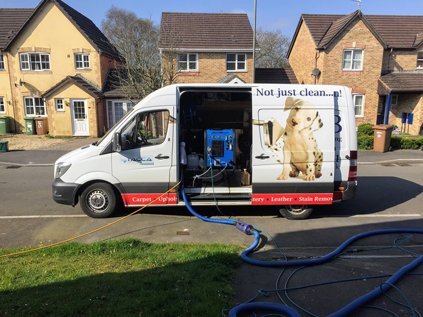 5. 25 years combined Experience: We have been cleaning carpets since 1989 and have gained ample amounts of experience.
We've literally come across all sorts of challenges with great success. Rest assured, your furnishing are in experienced hands.
6. Full NCCA Members: Not many carpet cleaners have obtained the NCCA qualification, which is the only qualification recognised by Governments, councils and other high authorities.
NCCA qualification involves an extensive training course and a lengthy exam. Being a member of the NCCA basically, means your ACE at your job!
7. Quality 5 Star Service: We do our utmost to provide ALL our customers with a 5 Star Service, something you won't find with national franchises.
We are a family run business with great passion and enthusiasm in our job.
We guarantee you'll love our service. And as a little thank you, all our customers get a free gift for choosing us.
8. Honest Pricing: The price we quote you is the price you pay! You won't get any sly sales tactics or hidden fees from us.
9. Informative Videos: Every now and again I publish informative videos about what to avoid when choosing a carpet cleaner, tips on caring for your carpets and upholstery and quick video shots of our amazing work achievements.
10. 100% CSB Money Back Guarantee: What's this, you ask? Well, I've created a rock-solid guarantee that Kevin and myself thoroughly stand by.
If for any reason you are not entirely happy with our cleaning then we will refund your money, simple as that – No Quibble.
11. Free bottle of our amazing stain remover with every job: After we have transformed your carpets into a like new condition, we know you'd want to keep them that way.
That's why we give all our customers a free bottle of our specialist stain remover to help keep your carpets looking ace!
Here's how to use the stain remover correctly.
12. TACCA Approved Members: TACCA is an association made up of dedicated top industry professionals ensuring high standards from their members.
And providing the public with great advice and information on how to choose the best local carpet cleaning company.