Sofa Cleaning Cardiff: Award Winning Upholstery Cleaners
By choosing Kevin and Mair of CSB upholstery and sofa cleaning Cardiff, you can enjoy the feeling of sitting in your fresh, CLEAN, vibrant looking sofa, as well as knowing you've reaped additional benefits.
Added benefits include:
Steam cleaned
FREE deodorizing
Fantastic Price
Hygienically clean
Bugs and nasties removed
Prolong your sofas lifespan
Get your floor coverings cleaned at the same time and SAVE yourself money, time and a few grey hairs!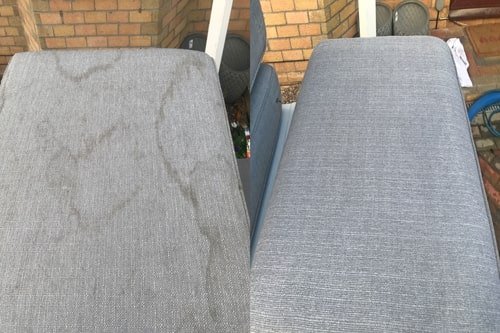 Watch this quick video of our Upholstery Cleaning
A quick brief snapshot of us removing dirt from a sofa cushion. Watch and see for yourself the unbelievable outcome.
Make Your Home Feel all Cosy & Warm!
Superior Results for Upholstery Cleaning in Cardiff
No longer do you have to throw out the sofa you LOVE because of dirt, dust mites and bacteria.
CSB sofa and upholstery cleaning Cardiff offers you a complete cleaning solution for your lovely home ALL year round.
Just take a look at we achieved with this armchair below. We cleaned the armchair using our SCT system and method.
Jane is as happy as EVER with our Sofa Cleaning Company in Cardiff
Just like Jane and Lisa, you'll feel proud once again to have your friends and family around to visit anytime.
What's Jane and Lisa's story?
In a nutshell, Jane had one mean coffee stain on her furnishings which we removed nicely. For Lisa, we cleaned many upholstered and fabric items.
Lisa saved quite a few bob by having her other upholstered items done at the same time.
If you would like to SAVE MONEY by having your other furnishings done at the same time, then read about our carpet cleaning service in Cardiff.
Check out their stories below.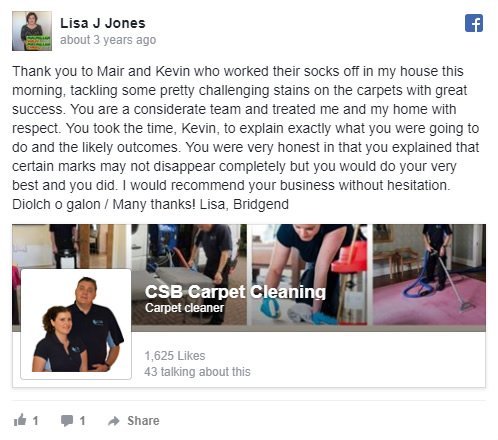 This is Jane, the lovely lady we've been talking about. Listen to all her words.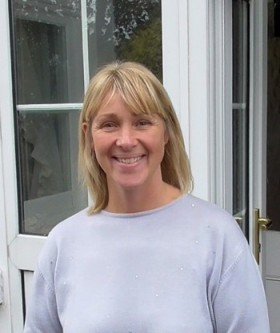 "They have done a fantastic job. The coffee stain has been completely removed. Very professional and came on time. Hope to have them back again"
For many more happy customers like Jane and Lisa, head over to our reviews page.
Accredited Sofa and Upholstery Cleaners in Cardiff and Throughout South Wales
Let me guess.
You poured out your heart and money into buying a beautiful settee.
Yet, you're looking at your sofa right now thinking… this is in need of a desperate clean!
You searched around for upholstery cleaners in Cardiff. Read all the jargon and still… you're not convinced.
Well, here's something for you to dwell on.
All other upholstery cleaners who are members of the upholstery cleaning organisation (TACCA), voted us as 1st Place UK Award Winners.
Out of ALL the upholstery cleaning companies, they were convinced we were the best in our industry and across the UK!
Just look at how we removed these watermarks from this cushion below: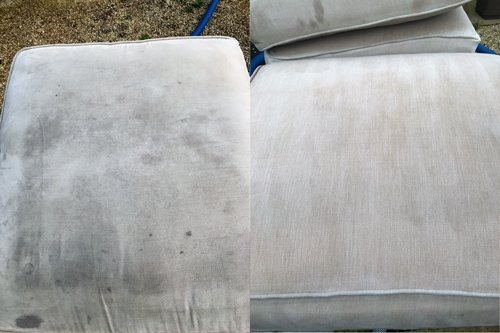 We'll take care of your upholstery by hand (literally) and restore your sofa to a beautiful clean condition.
All you need to do is just wait and see how your sofa and upholstery come to life.
But don't just take our word for it, listen to Estelle's incredible experience:
"Couldn't be any happier with how fabulously clean my sofa came up. It looks "brand new". And what a lovely guy Kevin is. So approachable and friendly. I Will most definitely be having them back again to clean my other furnishings. Fantastic value for money. Highly recommend this upholstery cleaning company".
Amazing, right? And just think… we could do the same for your sofa too.
Truly Exceptional Sofa Cleaning Cardiff
Every day, your furniture is subjected to a lot of moisture, food, dust, wear and tear, all of which damage the material.
Yet, with our QUICK and EFFICIENT truck mounted upholstery cleaning system in Cardiff, your sofa or lounge chair will be freshened-up and back in use within 2-4 hours.
Just think about this way.
With our regular and professional fabric upholstery cleaning service, your furniture will continue lending a touch of class to your home year after year.
Below is a 2 seater sofa we recently cleaned. Look's beautiful, doesn't it?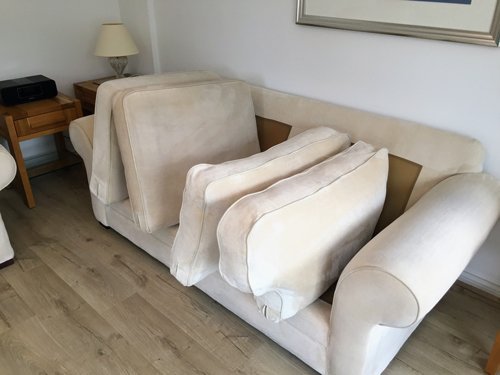 But let's not forget, it's not just about hygiene.
Another benefit of having your upholstery regularly cleaned is, you will notice a considerable reduction in the wear and tear of the fabric, consequently, increasing its lifespan.
And remember, our sofa cleaning systems will remove stains and smells from your upholstered items without damaging the colours or texture of the fabric.
How do I know this?
Because both Kevin and me (Mair) are trained upholstery cleaners in Cardiff, we take on even the most delicate of fabrics.
Our Sofa and Upholstery Cleaning Process
Step 1. Pre-inspection and Survey.
To begin with, I will carry out a test on the fabric so I know exactly which system is the most appropriate to use and also to check the fabric for any existing damage.
Step 2. Dry Soil Extraction.
I will then pre-vacuum all areas of the fabric with our HEPA rated commercial vacuum, coupled with a special hand tool.
By now Kevin will be outside getting the solutions ready (while sipping his coffee he's hoping you've made him).
Step 3. Pre-spot/Stain Treatment.
Prior to the pre-spray, Kevin will treat the areas of your sofa or upholstery that have marks or stains on.
These will be treated with our special non-detergent stain remover.
Step 4. Pre-spray.
Kevin, with his intelligent, educated choice of cleaning solution will begin applying it to all the fabric, to loosen up all soils, grease and ground-in dirt.
Step 5. Gentle Buff.
I will then carefully work the pre-spray into all the fibres with a soft pile brush, making sure all the fabric is well conditioned.
No doubt, Kevin will most likely have the machine up and running by now (likely gulping down his cold coffee he has forgotten about – yak!).
Step 6. Steam Extraction Rinse.
We LOVE this part. Just as you can see in the video above, Kevin or me (whoever gets there first) will flush out the dirt, grease and any cleaning residue with our rinsing tool.
Watching the dirt being easily released from the fabric and seeing the beautiful original colour appear, is AMAZING!
Step 7. Brushing and Setting The NAP
We then will wipe down the fabric with a cloth or a brush, removing any marks and setting the NAP (fabric pile) to its correct position.
Step 8. Speed Drying
We will then place a few speed dryers in front of your furniture to speed up the drying process.
Step 9. Final Inspection
My super handsome husband, Kevin, will then invite you to inspect your beautifully cleaned sofa or upholstery to make sure you are 100% satisfied.
If your looking for the best settee cleaners in Cardiff, then give us a call today!