Accredited Award Winning Carpet Cleaning Newport
A warm welcome from Kevin and Mair of CSB carpet cleaning Newport and throughout the Vale of Glamorgan.
Here's what you'll get:
FREE Deodorising
FREE Sanitising
Super quick drying carpets
Fresh and pleasant smelling carpets
BEST system and process (van mounted)
And a whole lot more!
"Kevin and Mair arrived bang on time and no messing, got straight into work. I actually couldn't believe the transformation of my carpets, they looked literally brand new, especially the stair carpet to the kitchen. They were both polite and professional. I will definitely be using then again. A good job well done – Merrie".

Video Of Our Full Carpet Cleaning Process in Newport
There's a LOT in this, so I'd recommend watching it, even if you've had your carpets cleaned before.
Join Our Hundreds of New Customers Every Year!
Best System Used for Carpet Cleaning in Newport
Do you want results like this cream carpet?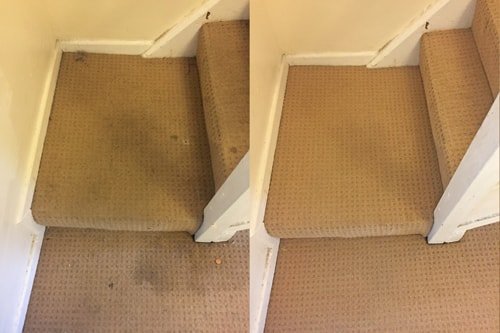 Truthfully, we know exactly how to make your carpets and hard floors natural beauty shine as well as making you proud of your beautiful home once again.
How do we do this?
By using our ALL POWERFUL Truck mounted carpet cleaning in Newport.
Our machine uses very high heat to break down grease and kill all those nasties in your carpet.
Apart from that, our beast of a machine has immense suction!
Removing all the dirt, soils, allergens and moisture out of your carpet leaving them practically dry, bright and hygienically clean!
Truck mounted carpet cleaning is the best and cost-effective way of getting your carpet cleaned.
Why not try out our truck mount clean for yourself today. Call us Kevin NOW!
Nought To Lose with our Carpet Cleaning Service in Newport
That's right, you've got nothing to lose apart from the dirt! Just like this beige carpet you see here.
RISK-FREE guarantee!
We stand behind our carpet cleaning service, that's why we offer a 100% Happiness Money Back Guarantee.
That's our promise.
So, you have nothing to lose, and everything to gain.
Have a question for us?
Would like to book our Newport service?
Catch me on my mobile. Call 07716 364 148 and get your home looking cosy and clean once again.
Need more info? Don't forget to check out our customers frequently asked questions.
Local Carpet Cleaners Newport: Kevin and Mair
As a mother and a carpet cleaner, I know children spend most of their time playing and rolling around on the carpets, and I'm sure you would agree.
As well equipped carpet cleaners Newport, Kevin cleaned and sanitised the carpets and this rug below ready for the new school term. The outcome was drastic!
This nursery carpet belonged to a local school. As you can imagine, it was heavily soiled with all sorts (kids will be kids).
Obviously, you want to keep your carpet clean to protect your families health.
Regular family-safe carpet cleaning is a safe way to keep your little ones and the rest of your family healthy and happy.
Are you a new mum?
Then let's face it, your baby will be crawling in no time which makes regular carpet cleaning an important part of childcare.
Harmful germs may reside in your carpet which can also transfer to their mouth from their toys after being on the carpet, all the more to get your carpets regularly cleaned to be on the safe side.
Choose Our Carpet Cleaning Company in Newport and Save Money
Why not get your treasured fabric items cleaned at the same time and SAVE MONEY.
Check out the results of this footstool we recently cleaned.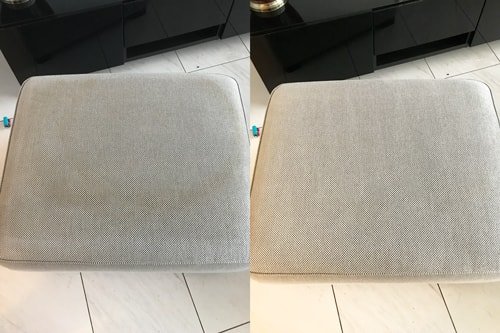 With our Newport based company, when you combine your sofa and carpet clean, you'll benefit from a generous multi-item discount.
For more information, read about our upholstery cleaning service in Newport.
Also, having your suite and carpets done in just one visit can greatly keep disruption to a minimum.
Not forgetting, saving you money and time while giving your home that new fresh clean feeling.
We are continually amazed by our work and know you will be too. If you're not – you don't pay. No quibble
Furthermore, we annually attend specialised training to ensure we keep up to date with all the latest carpet developments. So we can continue to provide leading-edge carpet cleaning Newport.
Book your clean TODAY and get a fabulous discount when you combine your carpet and suite clean in one visit!
Reduce Allergies with our Carpet Cleaning Service in Newport
Like I said earlier, make an intelligent decision and get your upholstery cleaned at the same time.
Sure, it's great to save money and get fabulous results like this beige carpet: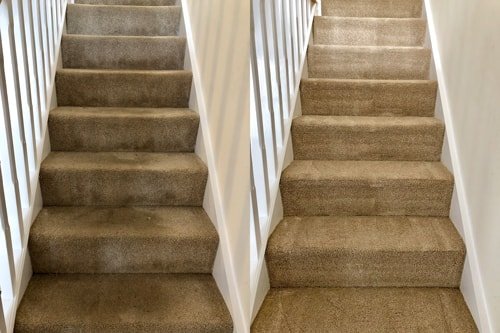 But, it's not just about removing the visible dirt. You also need to think about those invisible nasties that may cause allergies.
Do you suffer from allergies?
If you or one of your loved ones in your home suffers from allergies, you'll want to get your home as allergen-free as possible.
Whether you are allergic to dust, pets, mould or pollen, our upholstery cleaning Newport service is ideal for you.
All our cleans include a thorough deep clean of your carpets using our advanced multi-stage cleaning method.
This carpet and rug cleaning method helps to remove those nasties that play havoc with your allergy.
Additionally, our method drastically reduces drying times while leaving them clean, fresh and cosy once again.
Moving Home and Need your Carpets Cleaned in Newport?
Get life in a new home off to a great start with fresh, delightful carpets.
It's important to give your new house a GOOD clean before you move in and make it feel like it's really yours.
Having your carpets cleaned is the best way to get your home hygienically clean now before the rooms get filled and life becomes so hectic.
With your new home completely empty, you've got a unique opportunity to prep it perfectly.
And yes, we can help you do exactly that! Our thorough carpet cleaning service will leave your carpets clean, fresh and normally dry within 2-4 hours.
All the more, our carpet cleaning service in Newport will help you in the busy period of moving home and make it as hassle-free as possible.
So you can focus on the more important things and enjoy your new home or make your old home welcome its new owners.
Here's A Tip For You When it Comes to Carpet Cleaning
Moving home in the Newport area? Get your carpets cleaned before you move into your new home.
You're probably thinking, well yeah, that's obvious, it makes sense to clean it before you move in.
But there's another benefit. A BIG one.
You will SAVE A LOT of money.
How so?
Because we can clean a carpet quicker and easier if we don't have to move any furniture. Lesser the job takes, lesser the money paid.
Make sense?
Call now on 07716 364 148 and give your carpets and rugs a new lease of life.