Working to Industry Endorsed Standards. South Wales' Leading Specialists. Proud of Our Bespoke Smart Cleaning Technology Method
Enjoy Clean, Beautiful Stone Floors, Carpets and Sofas
Kevin and Mair of CSB are highly skilled, independent family owned and operated professionals.
We provide stone, rug, carpet and upholstery cleaning throughout the land of milk and honey "AKA South Wales", as well as carpet cleaning Bristol and fantastic carpet cleaning Swansea.
CSB Carpet Cleaning has earned an impressive reputation for its expertise and for delivering a FAST and efficient professional cleaning service.
Our amazing carpet cleaning Bridgend and the surrounding areas is backed up by our no-fail 100% Total HAPPINESS Guarantee.
If you are not 100% delighted with our carpet cleaning service, we will happily return and re-clean any area free of charge.
If you are still not satisfied, we won't accept your payment and your cleaning is FREE!!
Why Choose CSB? Here's Why!
Click on the video and listen to why YOU should choose Kevin and Mair as your local company.
Join The Thousands+ Satisfied CSB Customers!
Our Awards
Full NCCA Members and TACCA National Award Winners.
Furthermore, we are Fully Approved members of TACCA (The Approved Carpet Cleaners Alliance).
Not only that, but we were awarded by TACCA, out of the WHOLE NATION, for our Exceptional Work.
See our awards page for more information.
Kevin and Mair are expertly trained in spot and stain removal.
We have the most advanced techniques and specialised stain removal products at our disposal.
That means we're successful in removing up to 95% of spots, spills and stains.
If we can't remove a stain, then no one can!
Why Our Customers Love Us!
We believe the quality of our service is exceptional. You won't find a better service! See our video testimonials and written reviews.
We're delighted to have The First Minister of Wales, Carwyn Jones, as our lovely customer.
Read Lisa Jones' amazing review: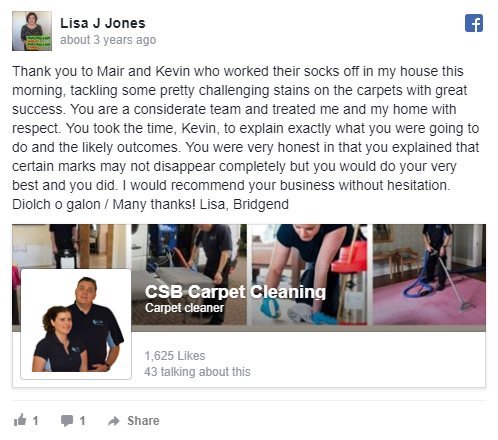 Our Accreditations
No other company can provide YOU with this level of confidence and craftsmanship
Both Kevin and Mair are professionally trained in the expert cleaning and restoration of stone floors, carpets, delicate upholstery fibres and advanced spot and stain removal.
We are advanced NCCA members, better still, we are the only advanced members in the Glamorgan area.
The NCCA membership is only granted to reputable businesses that are highly trained and skilled technicians, with full insurance.
Watch The Video
Promoters of Sage's New App for Apple iPhone!
We are the only UK carpet cleaning company to be chosen by SAGE (world's leading accounts software company) to promote their new APP for the APPLE iPhone.
Watch The Video
We never forget that you have a choice when it comes to picking a carpet cleaning company, so we work tirelessly to ensure that we at CSB carpet cleaning is the best possible option for your needs.
For any query or a chat about carpet cleaning Caerphilly or upholstery cleaning Pontypridd, call Mair or Kevin on 01656 859611. CSB Carpet and Fabric Care Ltd.