Chosen by SAGE Software to Promote Their New APP for the iPhone
SAGE Software was looking for a reputable company to promote their new app and after intensive research, they came across our business.
After studying our promotional work videos and seeing our enterprising commitment to deliver a genuine 5-star service to each and every one of our clients.
They approached us for a video case study to promote and launch their new App for iPhone.
Mair Hunt a director of CSB comments "SAGE are the biggest accounts software supplier in the world and of course. When I received an email from them asking me if I would like to promote their new App, I was delighted as you can imagine."
Lights, Camera, Action!
SAGE had a film crew fly down from Newcastle to interview my husband Kevin and record us in action. It's an experience I will never forget.
Mrs Willan our lovely loyal customer allowed us to carry out the filming while carpet cleaning in her beautiful home near Bridgend.
The home a stunning apartment overlooking the sea proved to be a perfect setting, perfect location and thankfully also we had perfect weather!
It was a pleasure to promote SAGE's App for APPLE iPhone indeed!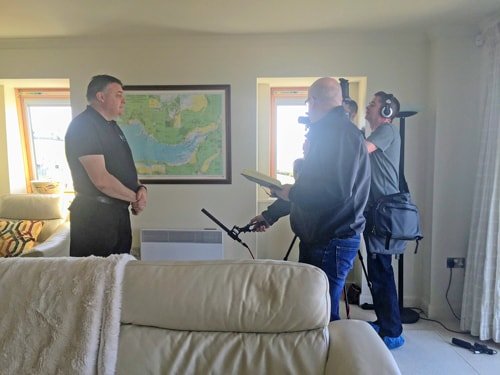 Having a multinational company like SAGE take note of our promotional work means a great deal to us.
It reassures us and our lovely customers that we at CSB work hard to achieve the best results possible.
And truly, we are South Wales' leading carpet cleaning company.
You can be sure that Kevin and I (Mair) strive to provide a genuine 5-star service achieving amazing results. Very flattering to realise that even the Multi-National SAGE thinks so!