Accredited Award Winning Sofa and Carpet Cleaning Bristol
Hi I'm Mair and my husband is Kevin, and we provide unbeatable award-winning sofa and carpet cleaning Bristol.
Are you ready to have:
*Beautifully Clean carpets and sofas that wow your visitors and family.
*Fresh Smelling carpets with FREE deodorisation. Also included with our sofa cleaning Bristol service.
*Save Money on multiple-room discounts or have your upholstery cleaned at the same time.
*Unbeatable Results thanks to our Truck Mounted Carpet Cleaning System.
Then now's the time to get yourself booked in so you can start enjoying the benefits of having hygienically clean carpets and upholstery.
That's exactly what Dorota did. Hear what she had to say…
"Fab team, very courteous and very sympathetic to my needs. To be honest, I was very impressed. This is a hardworking professional team, they should be very proud of the service they provide. I'm very happy with my carpets now – I've just moved in and this has helped me to make this house my home. Overall, well deserved 5 stars".
We also provide an unbeatable upholstery cleaning service in Bristol.

Surprisingly, This Is How We Will Clean Your Carpets in Bristol
Here's everything you need to know about how we will clean your carpets.
100% No Quibble Upholstery and Carpet Cleaning Guarantee
Our carpet cleaning Bristol service comes with our 100% Risk-Free Guarantee.
That's right. Try our un-matched carpet cleaning service and reap the benefits of enjoying beautifully cleaner carpets once again.
And if you're not satisfied for any reason, we'll give you a refund. No hard feelings.
Our hope is that you're beyond satisfied with our service, and naturally, we also expect on arrival, a black coffee for Kevin and a double whisky for me! (obvious joke) a single will do.
Awarded and Accredited Sofa and Carpet Cleaners Bristol
Kevin my husband and myself – Mair, have been running our accredited company for over 25 years.
Furthermore, we're fully qualified rug, upholstery and carpet cleaners in Bristol and throughout the surrounding areas.
Below is just one example of a stair carpet we cleaned for one of many customers in Bristol.
Throughout our journey, we've received many qualifications.
But the one that stands out the most in our memories is the award we received from TACCA, which is now formally part of the NCCA (National Governing Body for carpet cleaners).
We were awarded 1st Place UK National Award Winners for our continual customer satisfaction rate, customer loyalty and unbeatable carpet cleaning results.
And just recently, we were awarded Trusted Local Cleaner of the Month.
Pssst! Look Here. Reviews about our Sofa and Carpet Cleaning Company in Bristol
Read what Natalie Cox thinks about her carpets now.
"My carpets look new. I can't rate them highly enough. 50 stars from me! I'll definitely be using Kevin & Mair every time I have my carpets cleaned x"
We're SO happy Natalie loved the results we achieved with her carpets.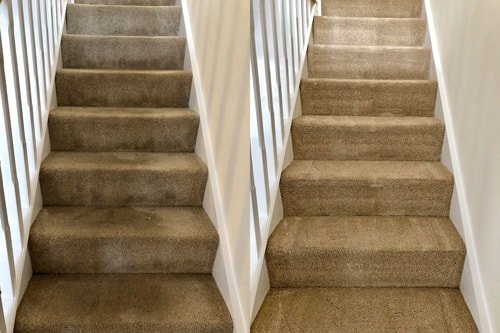 Now take a peek at what Wendy Wills said.
"I've found Kevin and Mair to be highly professional. Kevin has extensive knowledge of their trade. They treated my home and carpets with respect and left my carpet lovely and clean. They even wiped away their footprints in the porch as they left. I would not hesitate to call them back again".
You see, apart from eating cake, there's nothing more satisfying than reading other peoples experiences they've had with our carpet cleaning company in Bristol.
No doubt, by now you're instilled with confidence in our upholstery and carpet cleaning service.
But if you want more proof, check out our Facebook reviews or browse our gallery.
Upholstery and Carpet Cleaning F.A.Q You're Probably Wondering
If you find yourself asking these questions below, don't worry – you're not alone.
Here are the 3 top most common F.A.Q we're asked:
1. How long will my carpets take to dry?
Good question. Under normal situations, they take around 2 – 4 hrs to dry. For sofa and upholstery cleaning it takes about 6 – 8 hours.
2. Are they left wet?
Heck no! I'd be out of a job if that were the case.
Our Truck mounted upholstery and carpet cleaning machine is a commercial grade petrol-driven machine that produces immense suction.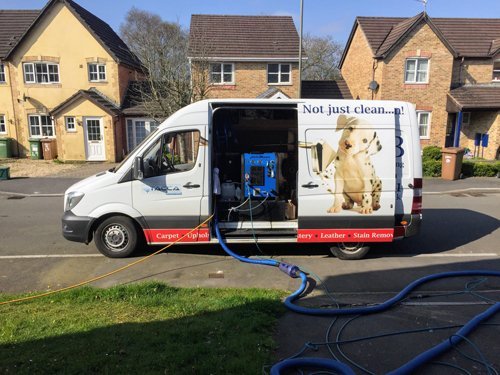 At least 95% if not more of the water we use to rinse your carpet and sofas is sucked back out along with the dirt. Leaving them slightly damp to the touch.
You can read all about our Truck mounted machine and why it's the best method used to clean carpets, settees, armchairs etc.
3. Can I walk on my carpets straight away?
You most certainly can.
As long as you don't walk from outside with your shoes on, whilst your carpets are drying (a damp carpet will be more susceptible to dirt).
We can always provide you with blue overshoes if you require.
I would say the same for your settees and 3 piece suites but… you know, their for sitting on!
See our F.A.Q's page for more answers to your questions.
Looking For A Sofa or Carpet Cleaning Price in Bristol?
Whether you need your living room, stairs or lounge carpet cleaned, we strive to give you the BEST clean possible at a very competitive price.
Just look at the results we achieved with this rug – #amazing.

Remember, we offer multi-room discounts, so SAVE MONEY and get the carpets in need of cleaning most or if not all your carpets cleaned at the same time.
Upholstery and Sofa Cleaning Bristol
Have a sofa, settee, armchair or a 3 piece suite in need of cleaning?
Below is just one of the thousands of armchairs we've cleaned over the years in Bristol.
Keep your eyes peeled for this one. This armchair went from this: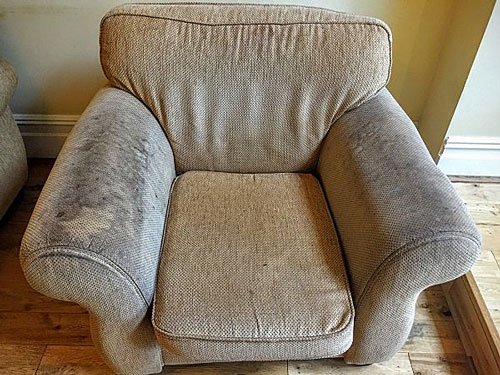 To an incredible transformation like this: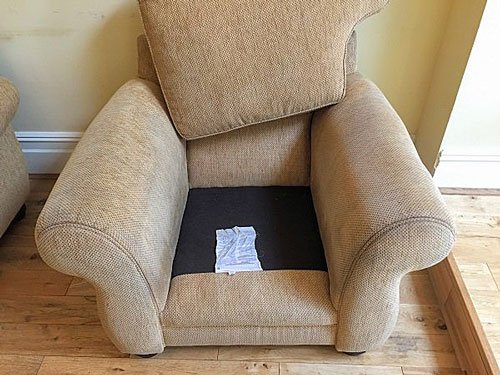 In addition to carpet cleaning, we offer upholstery cleaning Bristol and throughout the surrounding area.
Which is fabulous news!
Why?
Because now you can also SAVE MONEY by having your furnishing cleaned at the same time as your carpets – Hooray!
Call your local sofa cleaners Bristol now for a quick quote!
Areas Covered for Upholstery and Carpet Cleaning in Bristol
We provide Amtico cleaning, upholstery, hard floor and carpet cleaning Bristol including the following areas:
Bristol city centre
Clifton
Bishopston
Stoke Bishop
Redland
Long Ashton
Bradley Stoke
By now, I hope we've instilled in you enough confidence to choose us to clean your carpets or upholstery.
Many customers in Bristol have been delighted with our services.
If you have any questions or require further information, just call Kevin now.