Superior Award Winning Carpet Cleaning Cardiff
We're an independent, family-run company providing award-winning carpet cleaning Cardiff and throughout South Wales.
You'll be amazed by your CLEAN, more vibrant and FRESH smelling carpets again – we guarantee it.
As upholstery cleaners in Cardiff, all the below applies also.
Fast Drying (dry in 2-4 hours)
Thorough Deep Clean
Brightens Colours
FREE Sanitising and deodorising
Van Mounted System (simply the best!)
All at a Good Price!
"Excellent, superb service and incredible value for money! My carpets look brand new and smell absolutely lovely." – Dawn Robinson, Student.

See Us In Action! 8 Step Carpet Cleaning Process in Cardiff
Want cleaner carpets? We've pulled together this short video to help you see how we clean carpets.
Multi-room Discounts Available!
Carpet Cleaners Cardiff: We're Not Just any Cleaners – We're the Best!
We're a husband and wife team who are passionate about delivering an OUTSTANDING sofa cleaning and carpet cleaning service in Cardiff for our lovely customers.
Because we know social proof is one of the keys to all smart decisions, here are the results from one of our past client.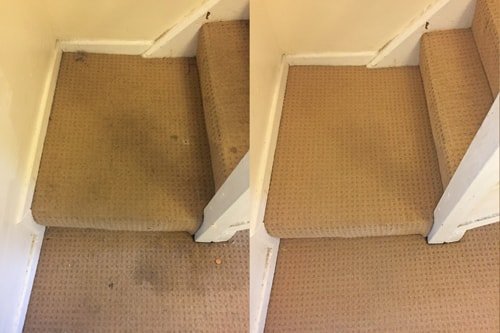 "A HUGE thank you to both Kevin and Mair for doing such an outstanding job. They both were very professional, polite and efficient. And what's more, they managed to fit me in last minute. I would highly recommend them." – Emma Leach.
Impressive, right?
Make no mistake about it.
You are dealing with a reputable company that GETS the job done right!
But you know what else?
We have more than 25 years experience under our belts.
Clearly then, we know our onions!
Our 100% Happiness Guarantee for Carpets
In case you're wondering, all our services come with a 100% Customer Happiness Guarantee.
We are so confident that you will benefit from your experience, your carpet clean is 100% guaranteed.
Whether you need your living room, bedroom or your entire house cleaned, it's guaranteed.
In the unlikely event that you're not grinning from ear to ear, we will return and re-clean your carpets.
Still not happy? Then we will provide a full refund with no quibbles!
My point is, if your not happy, you don't pay. It's as simple as that. – Kevin and Mair CSB Carpet and Fabric Care Ltd.
Superior Awards Won For Carpet Cleaning in Cardiff
Don't forget to check out our Awards.
We are literally OVER THE MOON right now to have received recognition for our remarkable work results.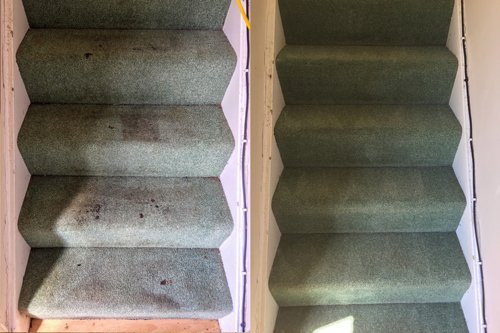 Not forgetting, our incredible advancements in the science of carpet cleaning.
But that's just the tip of the iceberg.
What we're really proud of is…
The award we have received from TACCA.
We were voted FIRST PLACE and the WINNER by an association of 848 top leading industry members throughout the UK.
Throughout the UK!!!
TACCA accreditations are the most famed after carpet and upholstery cleaning awards awarded in the UK.
So, you've seen our awards and work examples right? Yet, if that's not enough to convince you, read on to see the lovely comments our customers have said.
Great Reviews About our Carpet Cleaning Company in Cardiff
Lisa Jones the wife of Carwyn, The Former Minister of Wales, is one of our delighted customers.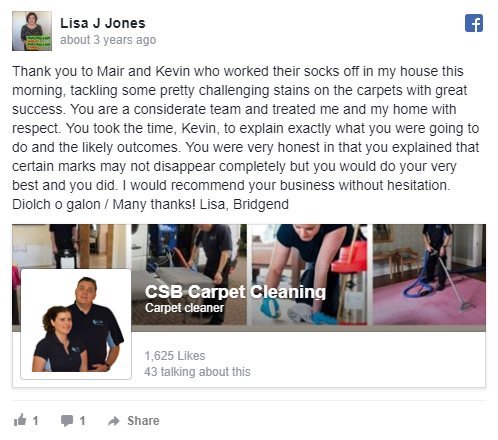 What a lovely review she wrote.
There's no question about it…
…Word of mouth is one of the most valuable ways of getting to know whether a company can meet your needs.
Many of our customers in Cardiff have quoted about our extremely competitive prices.
Also, many have said, "our standard and quality of service are of the highest order."
But check it out yourself!
You will find many carpet cleaning reviews on facebook confirming this.
Our customers always receive the BEST carpet cleaning Cardiff service.
Need to know more?
Here are some common frequently asked questions our customers ask.
Reason to Choose our Carpet Cleaning Service in Cardiff
There are many carpet cleaning companies in Cardiff to choose from, yet we have an EXCELLENT track record.
Here are 8 great reasons to choose us.
1. Dynamic and Powerful Equipment
We utilise the most advanced carpet cleaning technology available, including our Truck Mounted cleaning system that delivers a THOROUGH deep clean of your carpets.
Powerful and unmistakably the best machine for REMOVING staggering amounts of dirt from deep within your carpet's pile.
But here's something interesting.
By intergrading our machine with our multi-stage prepping techniques, we have created the perfect system with PROVEN results.
The result? Our process leaves your carpets clean, fresh and fluffy.

2. Your Furnishings Are Fully Protected
We've got it covered!
Fully insured, liability AND treatments risk insurance (not just liability insurance, which won't protect you against items actually being cleaned).
3. 25 Years Experience and Training
In addition to being FULLY trained and qualified, we continue to annually invest in extensive training by industry-leading organisations.
Professional carpet cleaning is a continually growing industry.
So, we feel it's important to keep up to date as we have always done through our 25 years of providing an UNBEATABLE service.
4. Rapid Drying
With our powerful, quick and efficient truck mounted cleaning system, we are able to achieve FAST DRYING results.
And just think.
You can enjoy spotless and dry carpets in just 2 – 4 hours.
Imagine that!
Yet, you may be wondering.
What is a Truck Mounted System? Aren't they all just the same?
The answer is No.
Truck mounted cleaning systems are petrol driven machines that are mounted on your van.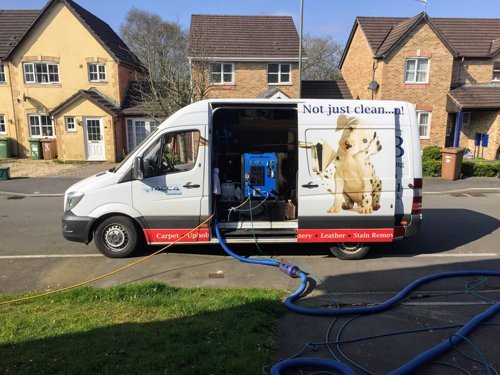 They are incredibly POWERFUL and are the best and most effective way of removing the moisture and dirt from your carpets.
5. Long Lasting Thorough Clean
By using the latest breakthrough non-detergent carpet cleaning solutions, combined with our steam extraction process, we are able to deliver a lasting clean.
When you say "lasting clean" what do you mean?
It all boils down to this.
Our unique process ensures that your carpets are left residue free.
Carpet cleaner residue will attract dirt, that's what its designed to do. It's how we remove dirt and clean your carpet.
So we ensure all cleaning residue is removed as much as possible along with the dirt.
No residue means your carpet will attract less dirt.
Which is great for you, right?
Because your carpets will stay CLEANER for LONGER.
6. We Care About Your Health And Ours Too
We know that caring for your family's health is a priority to you and us.
The picture below is just one of many schools across Cardiff that we clean and sanitise on a regular basis.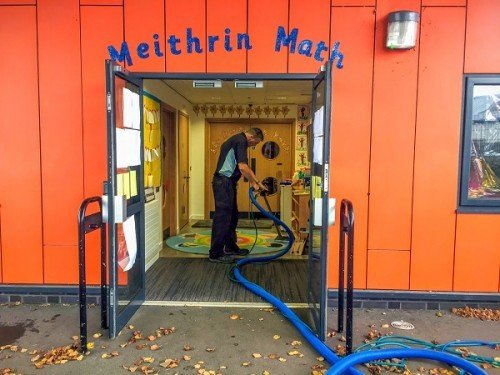 This is the reason why we use Eco-friendly solutions that are completely safe for Babies, Pets & You.
Likewise, every one of our products is Asthma and Allergen friendly.
7. NCCA and TACCA Members
Recommended and Approved By The NCCA and TACCA.
As I said before, we are qualified members of The National Carpet Cleaners Association and The Approved Carpet Cleaners Alliance.
Just to clarify, ALL members of the NCCA must go through extensive training and an exam in order to be recognised as trained professionals.
8. Award Winning Clean
Award Winning carpet cleaners in Cardiff, Kevin and myself (Mair) attend every carpet clean. Hence, your furnishings are in excellent hands.
Approved by The Official Carpet Cleaning Trade Association
Did you know?
The NCCA ( The National Carpet Cleaners Association) is the only official trade association in the UK.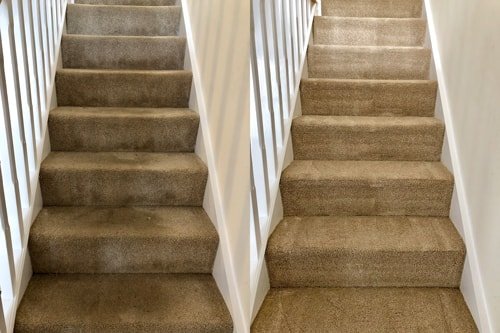 Here's the thing though.
To be APPROVED by the official trade association takes an incredible effort, training and skill.
So, we went to the effort to achieve this accolade by attending many specialist training courses in carpet, textile and tiled hard floor cleaning.
By doing so, we obtained the necessary professional qualifications to be approved as full members.
Why all the effort?
Because by proving we are qualified and that our work is fantastic, it reassures our customers and you that they have made the right choice.
Cardiff's TACCA Certified Carpet Cleaners
As I mentioned earlier, we are proud to be a part of this organisation and to have received an AWARD for our great services.
Yet, what is TACCA you may ask?
To sum it all up.
TACCA is a well-established carpet and upholstery association made up of honest carpet cleaning technicians.
Our aim is to work together to educate the general public and business owners of the importance of choosing a qualified service provider.
Our 8 Step Carpet Cleaning Method in Cardiff
Every carpet in every household is different. So, the very FIRST thing we do is discuss with you, our customer, about what is required.
Some rugs can be cleaned in situ.
But for some of the more prestigious style rugs, they will have to undergo a different rug cleaning process in Cardiff.
Step 1. Inspection
Since I have a rather keen eye for carpet identification, I will thoroughly inspect your carpet, both the pile and the backing.
Before I go any further.
I'd just like to point out that this inspection is very important when choosing the BEST treatment for an optimum clean.
This inspection includes discussing any stains or marks that are on your carpet and deciding how best to proceed.
Step 2. Dry Soil Extraction
Next, I will then THOROUGHLY vacuum your carpet with a high filtration commercial vacuum cleaner (Likely, Kevin will be sipping his coffee at this point).
Would you have believed me if I said that up to 85% of the dry soils are removed with our professional vacuum cleaner?
Well…it's true.
That's why removing dry soiling is one of the most important steps in cleaning, one that we take VERY seriously.
Step 3. Specialist Stain Removal
Argh! Nothing ruins a quality carpet more than a fresh stain.
Play-doh, nail varnish, coffee spills or whatever it may be, we will use our professional stain removal products and techniques to remove troublesome stains.
In spite of the fact that stain removal is not a guaranteed service, we do have a very good track record of removing the MAJORITY of stains we're challenged with.
Step 4. Unique Pre-Spray
Kevin (because he LOVES this part) will evenly apply the pre-spray to ALL areas of your carpet using his most favoured tool, the jet.
This magnificent tool evenly applies the solution to the carpet in a controlled flow with ease. Hence, every fibre is covered nicely every time.
The pre-spray in itself is unique.
It's specially designed to electromechanically lift oily dirt and pollutants from your carpet so they can be quickly and safely extracted using our high-performance extraction machine.
Step 5. Pre-Grooming (Buffing)
At this point, I will be outside prepping the machine and ready for action.
In the meantime, Kevin will use a professional CRB grooming machine to delicately buff the carpet fibres.
This is also a vital part of cleaning because it helps to leave the soils suspended and ready to be extracted by our Truck Mounted carpet cleaning machine.
Buff the carpet fibres…Euh?
Allow me to explain.
Our CRB machine gently brushes the solution into all the carpet fibres. A bit like when you're massaging shampoo into your hair, but without the foaming and we clearly don't use shampoo ha!
Again, this is also a vital part of cleaning. As I said earlier, it helps to leave the soils suspended. Therefore, our truck mounted carpet cleaning machine can extract it out with ease.
Step 6. Intense Rinse Extraction
As much as I LOVE this step, Kevin is the one you're likely to see extracting your carpet (less the stairs, of course, that's my job).
With our powerful rinse extraction system, we will flush out all of the dirt, bacteria and air pollutants from the carpet, giving it a LONG LASTING, deep down thorough clean.
Our lovable (yes..we do love it, it's simply brill) yet POWERFUL extraction machine allows for consistent HIGH STEAM in addition to high pressure.
This is the best part.
Our machine is able to rinse your carpet using just water at very controllable amounts.
Yet, the beauty of this machine is this…
While our machine is extracting, it also pulls out the MAJORITY of the moisture it used in rising, along with the soil, dirt and nasties.
As a result, giving the BEST clean possible while leaving your carpets fresh and beautiful.
Step 7. Protective Foil Tabs
After we have finished carpet cleaning and your carpet has had a thorough detox, we will replace your furniture back into its position.
We will then place protective foil tabs and Styrofoam blocks under the legs of your furniture.
This is to prevent the colour stain from the furniture leaching onto the carpet while it is moist. Rarely happens, but then again, better to be on the safe side.
Step 8. Post Inspection
And lastly (phew), we will walk with you through your home again to make sure you're happy.
Before we go on our way, we will give some great advice and suggestions for the future that will help you improve your carpet's lifespan and cleanliness.
Call Kevin and Mair Now on 02922 093 015 because we're ready to help.
Do You Provide Carpet Cleaning Near Me? Yes, We do!
We cover all areas including:
Cyncoed
Lisvane
St. Mellons
St. Fagans
Radyr
Rumney
Cregiau
Canton