Specialist Oriental Rug Cleaning Cardiff
As leaders in Oriental Rug Cleaning Cardiff and throughout South Wales, we are perfectly placed to offer a first class reliable rug cleaning service with proven results.
Watch what goes on at the rug spa! Check out our rug cleaning process.
We are a local, independent, National Award Winning family run business providing unbeatable rug cleaning in Cardiff.
With many years in the industry and highly skilled and experienced craftsmen, we treat every rug with special care and attention.

We clean all types of rugs.
Whether its Persian, Oriental, Chinese, Indian, Turkish, Antique, Wool, Silk or Synthetic.
With our thorough rug spa treatment, your rugs will be restored to their former magnificence, unlocking the glorious hues and tints of every fibre, and allowing the rich colours to shine.
Cleaning and repairs are expertly carried out by our professional craftsmen.
Every rug is unique and is treated as such and we will choose a cleaning technique and deep nourishing formula that is both thorough and sensitive to the precise needs of your rug.
Deepest Most-nourishing Rug Cleaning in Cardiff
Every day, dirt and grit particles get trodden into your rug, eventually penetrating deep within the pile, cutting and damaging the fibres themselves and eventually your rug will fall apart.
Cleaning your rugs at your home means we can only merely clean the surface of your rug, which means all the contaminants, dirt and grit particles are still within your rug pile, shortening your rugs lifespan and losing its vibrancy.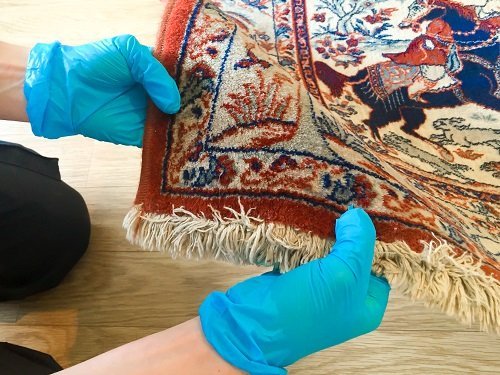 By having your rugs cleaned at our Rug Spa Treatment Plant, we are able to carefully dislodge as many of the dirt particles as possible with our advanced equipment and techniques. We then can use a sensitive but Deep-penetrating Cleaning method that washes every fibre from head to toe.
The benefits of this process are that your rugs will get a Full Detox, fully removing all the dirt, grit and soils from deep within your rug, while leaving your rugs actual fibres strengthened and reinforced. An unsurpassed cleaning experience and performance that you can never achieve when cleaning your rugs at your home.
Carefully Controlled Rug Drying Process in Cardiff
The drying process is another important step that needs to be done correctly. Leaving your rug dry while laying on the floor can cause them to dry uneven and buckled, let alone taking days to dry which may pose a risk to unwanted dye bleeding, cellulosic browning or soap burn.
At our rug spa, we'll ensure your rug dries out gently and correctly. We use a large centrifugal spinning machine that spin dries your rug, as a result, excess moisture is removed, leaving it as dry as possible.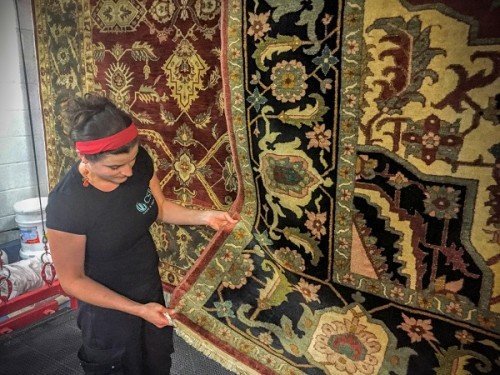 Furthermore, your rug is hung in carefully controlled temperatures, which ensures your rug gets a proper airing and remains under tension, eliminating the risk of shape change.
Your rugs are left to dry fully overnight, inspected then bagged to retain their freshness.
Hassle Free Collection And Delivery Service in Cardiff
Save on the inconvenience by taking advantage of our hassle-free collect and delivery service.
We provide Award Winning Rug Cleaning Cardiff, Cowbridge and the encompassing areas.
We will happily collect your rugs and treat them with extensive care in our rug cleaning plant and ensure you rugs are delivered back to your home Beautifully Clean, Vibrant and Fresh.
Allowing you to enjoy it to its fullest, at its freshest.
Persian and Oriental Rug Cleaners in Cardiff
All the cleaning and drying process will be performed by our carefully-picked and highly skilled team of Artisan Rug Cleaning Specialists.
Your rug will be treated with the Deepest Most-nourishing Clean we can deliver.
Our Master Rug Cleaning Process
Here are our 9 steps to beautiful rug cleaning in Cardiff.
Step 1: Inspection and Testing By Our Senior Master Rug Cleaner
Our first point of protocol is to carry out a thorough detailed inspection of your rug. Your rug is firstly measured and tested for colour fastness. Then we will check for any pre-existing issues such as pile reversal, pet urine issues and general damage.
We will tackle each stain and blemish individually and if we find any areas of concern we will contact you straight away before any cleaning work is carried out.
A report will be written up and a photograph will be taken of your rug and attached to your personal file. Your rug is then labelled and ready for cleaning.
Step 2: Ultimate Soil Removal
After your rug has passed our detailed inspection, we thoroughly vacuum your rug.
We use a pile lifter (the beast of vacuum cleaners), simply because it's an incredibly powerful machine. It lifts and opens the pile of your rug while vacuuming up all those loosened soils, grit and pet hairs from deep within your rugs pile.
Step 3: Professional Rug Dusting
Dusting is the most important stage in rug cleaning! Anyone who skips this stage or uses inadequate and ineffective machines (like a vacuum cleaner) is simply not cleaning your rug properly.
We then use the industry's finest dusting machine called The Rug Badger. This is an incredibly powerful machine because it can remove pounds of soil even after a thorough vacuuming.
It's designed to deliver over 40,000 penetrating harmonic vibrations a minute deep into the back of your rug, shaking loose any dry, heavy, damaging soil & sediments trapped both within the foundation and in between the rug fibres themselves.
We then use our pile lifter once again to remove any dust that may have risen and settled on the surface of your rug.
Step 4: Bath Time! Ready For Pampering
Now the washing process can begin. We will place your rug in our rug bath and submerged in water. We will then use our rug roller to gently massage the water through your rug.
We will then hand pick a deep -nourishing formula that is both effective and gentle to the precise needs of your rug.
We thoroughly wash your rug on both sides using our specialist solution along with our rotary machine to ensure a Deep-penetrating Clean that gently washes every fibre from head to toe.
Fringes require particular attention, a more slow, skilled approach is needed. We use a time-tested hand cleaning technique that's gentle yet effective. Your rug is then thoroughly rinsed.
Step 5: Important! Rapid Moisture Removal
This next stage is what sets us apart from our competitors. We use a centrifuge machine. This machine spin dries your rug, rapidly removing up to 95% of water from your rug in just 3 minutes. Rapid drying is vital in order to prevent any problems such as dye bleed and wicking of fringe.
The speed of our system means we encounter zero problems. It also has a rinse feature that ensures your rug is completely free of contaminants and residues.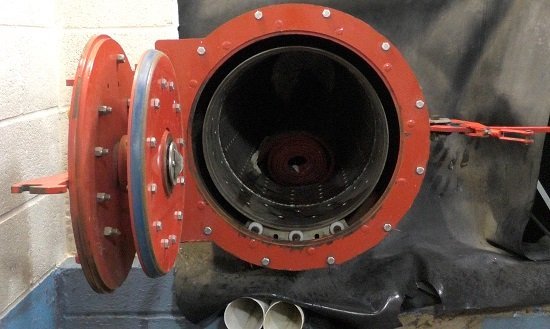 Step 6: Extra Special Touch
Before your rug enters our drying room, we groom your rug so that the pile is set to its original position, giving it a more even look to the finish.
Step 7: Into The Drying Room
Your rug is then hung in our large drying room and monitored under carefully controlled temperatures with dehumidifiers. This ensures your rug dries correctly and remains under tension, eliminating the risk of shape change.
Your rug is then tested with a Protimeter to ensure that your rug is completely dry throughout before being removed from the drying room.
Step 8: Passing The Final Test
Our master rug cleaner will then carry out a final inspection of your rug. Protection will usually be applied at this point as an additional option.
Step 9: Welcome Home Your Beautiful Rug
Once your rug has passed the quality control test, your rug is groomed one last time and then wrapped in breathable wrapping to retain its lustre. Allowing you to enjoy it to its fullest, at its freshest.
We will contact you to let you know that your rug is ready for delivery but in the meantime, your rug will be stored safely.
Moth and Insects Eradicated
Female moths can lay hundreds of eggs at a time, and in a matter of weeks, these armies of grubs can eat their way through the rug fibres, weakening the structure, and destroying the look and feel of the rug. In reality, the larvae can spread from one rug to another, wreaking havoc across all your rugs.
Thankfully, we can eliminate all traces of moths, eggs and their larvae from your rug, as well as any other stubborn creepy crawlies that are hiding deep within your rugs pile.
Additionally, we will protect your rug from further contamination by applying a gentle yet effective moth repellent. This solution alters the fibres taste, preventing the moths from laying their eggs within your rugs pile. This treatment will last for up to 1 year.
Urine Treatment
Urine stains and odour can be a problem for any householder, especially if left untreated.
We will tackle each stain and blemish individually. With a detailed inspection, our team of highly skilled and trained technicians will pick out exactly the right solution needed to neutralise and remove the source.
We will deodorise your rug fully, injecting all the Freshness and life back into it.
Rug re-shaping
Has your oriental rug become rippled, misshapen or buckled as a result of water damage, improper storage methods, or an inadequate drying process?
No worries, our team of highly skilled craftsmen are extensively trained in rug shaping, edge-work blocking, and plucking correction techniques.
We will submerge your Persian or Oriental rug in water that is under carefully controlled temperatures. Your rug will remain in the water for about one week and inspected daily.
Our oriental rug repair specialists will then carefully hand manipulate your rug back into its original shape using time-tested rug shaping techniques. We are confident that we can restore your Oriental rug or Tapestry back to its original shape.
Fire, Flood And Toxic Odours
We know that these events can be highly traumatic, yet there's no reason why your prized rug can't be restored to full health. A treasured rug often means more to us than a mere price tag.
Unfortunately, in the event of a fire and flood-hit rugs, a rug can absorb toxic acrid odours. Blackwater, dye bleed, soot deposits can have a damaging effect if left untreated, allowing the rug to disintegrate to the point where its beauty is lost.
A slow, skilful approach is needed in this case. Our Artisan Specialist Rug Cleaners will hand wash your rug, using gentle techniques and solutions that's exactly right for your rug. This skilful approach will get right to the roots of your rug's fibres, removing all dirt, soot, black water and bacteria that may be lodged deep down in your rug.
The correct treatment of stains and methods of dealing with colour inconsistencies is something we take great pride in. Our trained skills and techniques allow us to restore the glorious hues and tints that make your rug an individual piece of art.
To book your rug in for a thorough spa treatment, call us now on 02922 093 015 or 07716 364 148