Karndean and Amtico Floor Cleaning Cardiff, Bridgend and Swansea
Kevin and Mair are South Wales' Top Award Winning cleaners specialising in Karndean and Amtico floor cleaning Cardiff, Newport, Bridgend and Swansea. And furthermore, throughout all major towns across Glamorgan.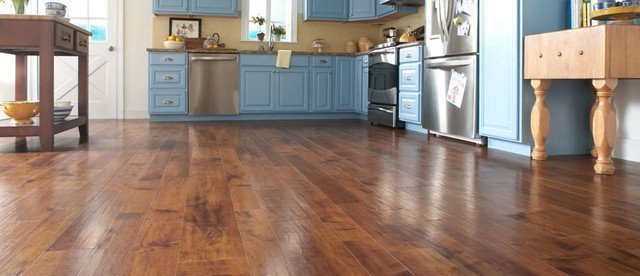 What we can do for your floors:
Remove dirt, grit, grease and grime
Treat scratches and stains
A choice of finishes from satin to high gloss
Apply protective sealants
Restore the luxurious feel and natural BEAUTIFUL appearance
Enhance your floors glamorous premium look
And now, you'll receive a FREE bottle of Amtico floor cleaner after all cleans.
Amtico Floor Strip, Clean and Sealing Process
Watch how we strip, clean and seal this Amtico floor back to its original look.
Certified Amtico and Karndean Floor Cleaners in Cardiff
We specialise in cleaning, restoring and maintaining your much loved Amtico and Karndean floors.
For over 25 years, we have been utilising leading-edge equipment along with specific cleansing solutions that dissolve the dirt, grime and those chemical residues left behind after mopping.
And what's more…
It's gentle, caring and produces very EFFECTIVE results.
Yet, that's not all
We have a lengthy record of achieving high standards expected by our clients at very competitive prices.
You can RELAX because we are thoroughly prepared, trained and skilled Amtico and Karndean cleaners in Cardiff.
Call Kevin and BOOK your Free DEMO now on 02922 093 015 / 07716 364 148 and let us demonstrate what we can achieve with your floors.
What Does My Amtico or Karndean Floor Need?
At the point when your floors are dull and miserable. When your glossy floor has lost its character. And you feel like you're walking the plank…
Now would be a great opportunity to consider calling in Kevin and Mair to breath life back into your floors with our tailored approach.
Loss of Shine, Dull and Patchy:
If your floor has lost its shine and is looking a bit miserable, then your floor needs to be stripped and re-dressed. Watch the video above.
Scratches and Scuff Marks:
Success in removing scratches can vary greatly. Scratches in the seal can simply be removed by stripping off the seal.
Very Light scratches in the Amtico or Karndean surface itself, may be removed with a stripping pad.
Deep scratches cannot be removed.
What Finish Would You Like?
After we've stripped the floor of the old dressing, it's advisable to have it sealed to protect and prolong your Amtico floor (because let's face it, it's not cheap).
Not forgetting…
…to keep your Amtico warranty valid!
Our dressings come in 3 different sheens.
Matte:
Hardly any shine at all. Simple smooth matte.
Satin:
Gives off a subtle sheen, gloss-like finish. Put it this way, you don't need sunglasses!
High-Gloss:
This is the most popular choice. It gives off a BEAUTIFUL SHINE and adds a bit of lustre to the room.
Amtico Beautifully Restored in Newport
Finished with two coats of Amtico dressing to give the floor a satin finish.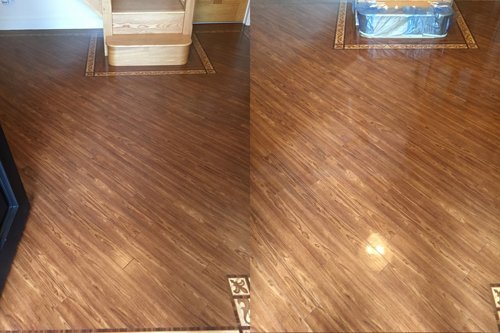 A Less Demanding Clean
Both Amtico and Karndean vinyl floors retain their beauty for a LONG TIME.
Practical, hard wearing, limitless varieties with all the natural beauty of wood without the drawbacks.
Yet at some point, you will need to get them professionally restored to their fascinating design and unique beautiful characteristics – and of course to retain their lifespan.
Interestingly, Karndean and Amtico are much less demanding to clean than other floorings.
Your Amtico or Karndean Floors Not Looking Good? Here's Why!
When you purchase a Karndean or Amtico floor, they recommend that you clean it with their products to guarantee appropriate cleaning.
Unfortunately, improper continual over application of this product can promote a build-up of a residual layer of sticky detergent that attracts dirt and grime.
How Come?
Well, If you think about it, no matter how much you mop your floor, detergent residues will be left behind.
Detergent residues attract dirt, hence when you walk on your floors, the dirt sticks to it.
Every time you mop your floor, you're adding to the residual layer.
Therefore, professional cleaning and restoration is the only way to remove the layers of grime and maintain the HEALTH of your floorings.
Amtico and Karndean floors are designed to last, however, all things look and feel better when they're given a little care and attention.
We have tailored maintenance plans that will create and maintain the look you want throughout your floors lifetime.
Call Kevin and Mair now to discuss your floor options and to book your free demonstration on 02922 093 015 / 07716 364 148
What Is SFCT (Smart Floor Cleaning Technology)
Smart Floor Cleaning Technology is the latest advanced equipment combined with specialist breakthrough formulas and our tailored bespoke cleaning process.
So, what exactly is it?
Click on SCT and scroll down the page until you find hard floor cleaning and read why it's the best breakthrough technology yet!