Tile & Stone Floor Cleaning Swansea & Port Talbot
You'll Sense Richness, Warmth And Beauty
Welcome to CSB tile and stone floor restoration Swansea and Port Talbot – We are certified, Advanced Award Winning hard floor cleaners offering unbeatable hard floor cleaning Swansea, Port Talbot and the encompassing areas.
Kevin and myself (Mair) are certified in cleaning Granite, Vinyl, Travertine, Flagstone, Slate, Limestone, Marble, Tile, Terracotta, Victorian Tiles, Ceramic, Porcelain, Quartz, Quartzite and Sandstone.
Watch Our Diamond Process
Certified Professionals
Want Stunningly Beautiful Floors?
Maximum Impact With Minimal Fuss 
Has your marble floor lost its beautiful Sparkle? or does your tile or stone floors looking rather gloomy? Whatever your hard floor dilemmas, we are skilled and certified in bringing out the unsurpassed beauty and lustre in your hard floors, making your living space the centre of attention!
Below is a Marble floor we recently restored to a beautiful masterpiece. We cleaned, diamond polished to a semi-gloss finish and then sealed to maintain it's beauty.
Get in touch with CSB Stone & Tile Floor Care on 01792 293 243
Recent Accomplishment
Beautiful Travertine floor we revived lately.
Give Your Tile & Stone Floors That Needed Health Break
Are your tile and stone floors CRYING OUT for a health break?
Hard floors can be a beautiful investment and with it comes the responsibility of keeping it clean.
There are several theories, homemade or shop bought products and suggestions on how to care for your floorings yet, the DIY approach often never emit good results and all too soon you'll start noticing your floors getting a milky white or cloudy appearance.
There are many reasons why this happens. Applying too much cleaning detergent to your floors for one thing. Leaving excess residues on your floor can attract dirt and eventually you'll end up with a build-up of dirt.
Poor cleaning technique prior to sealing are the main causes of milky white floors. Natural stone and tiles have a porous surface, meaning dirt, grime and residues can seep into the pores. The pores need to be cleaned thoroughly before sealant is applied, otherwise, dirt trapped under the sealant with creating a milky white residue.
Here is Kevin below carrying out a specialist deep clean ensuring that the open fissures and pores have thoroughly flushed out of any dirt particles.
Whatever your hard floor issues, we have the knowledge and experience to identify the root causes of dull, cloudy and streaky stone and tiles. With our expertise, your tile and stone floors will last you as long as your home!
More Great Work!
We recently cleaned, diamond polished and sealed a beautiful Travertine floor in a farmhouse kitchen.
Again, More Works of Art…
Stunning Marble floor we polished and sealed.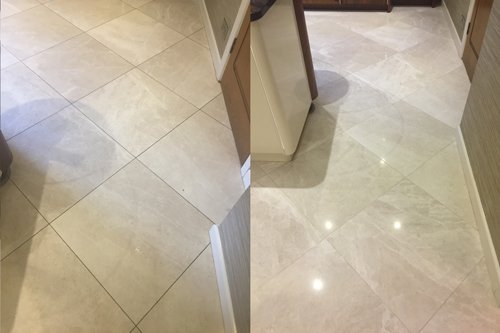 Colour Enhanced Slate Floor Restoration
Slate floor we cleaned in Swansea. We applied a colour enhancing sealant to revive the natural colour and tones.
Sealed & Protected Stone Floor Cleaning In Swansea – Travertine, marble, limestone, slate and much more
Travertine, Marble, Porcelain, Amtico and many other flooring products respond exceptional well to our cleaning process. Further, we recommend protecting your floors with a sealant.
Sealants can protect your floor from many stains and can enhance your floors natural colours. The picture below you'll see an example of how brilliant our sealant has protected this stone tile from a red wine spill. We applied the sealant in a shape of an X as you can see.
Furthermore, we can apply a range of finishes to suit your desire. How about a scratch free smooth matt finish, or maybe you're the high gloss type, or if you're like me, you would prefer a colour enhanced finish. All things considered, we have complete tailor made packages for all.
Call us now on 01792 293 243 for a free quote for tile and stone floor cleaning Swansea and Port Talbot. 
Skilled & Qualified
Get Wonderfully Inviting Floors