Don't DIY – Or This Will Happen
These machines really drive carpet cleaners crazy, and at least once a week we are called out to try and rectify the problems they cause.
One example here pictured below of a customer's carpet where they had used a hired carpet cleaning machine.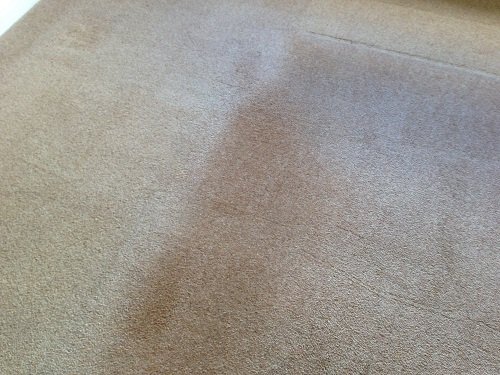 Due to the lack of knowledge, they unintentionally destroyed the carpet fibres – an irreversible and costly mistake!
Question! Should you hire a machine to clean your own carpet after seeing the damage caused above?
I thought not!
Can't be bothered to read? Just watch the video:
What would be your choice?
24 Hour Hire £33, Cleaning detergent £12 per litre, stain treatment products £11, traffic lane cleaner £5, odour deodorisers £11. Hours of hard work, soaking wet carpets and looks no better…..sounds like a real bargain!
OR
Put your feet up, have a coffee and let CSB Carpet Cleaning work wonders with your carpets! Our prices are very competitive – paying that little extra to get your carpets professionally cleaned is well worth it.
The Facts
Firstly, rental machines use soapy cleaning detergents that you add to the water tank – basically, you're rinsing your carpets with soapy water, does that make sense for starters – clearly not.
This process will leave residue in your carpets. When the residue dries it gets sticky, hmmm! This leads to rapid re-soiling of your carpet.
That entire sticky residue is a soil MAGNET!
Imagine if you had washed your hair and rinsed it with soapy water – you get what I mean right… many customers have repeatedly told me that their carpets get dirty quicker, that's what happens with rental carpet cleaners.
So What Makes Our Process Unique?
We use low residue pre-treatments prior to rinsing thus there is no need to add any solutions to the tank meaning we rinse with using just water.
Our rinse and extraction process removes all residues leaving your carpet clean, brighter looking and fluffy.
Secondly, rental machines are greatly underpowered. The suction is not powerful enough to effectively extract the dirt and moisture out of your carpets.
What Do The Professionals Use?
CSB Carpet Cleaning has heavily invested in one of the most powerful cleaning machines on the market.
We use a powerful truck mounted cleaning system with immense suction.
We extract the soils from deep within your carpet's pile, and a whopping 95% of the moisture is removed.
Apart from your carpets, we use the same cleaning machine to clean settees and luxury suites.
Choosing CSB to professionally clean your carpets is the best choice you will ever make when it comes to keeping your home clean and fresh.
Call CSB Carpet Cleaning on 02922 093 015 for an Amazing Free Quotation.
Check out video testimonials from our wonderful customers who were delighted and amazed by our outstanding carpet and upholstery cleaning service.