Simply Stunning Hotel
Kevin and I had an enjoyable afternoon cleaning carpets at the amazing Coed Y Mwstwr 4 star country house hotel.
An absolutely beautiful Victorian mansion surrounded by 17 acres of woodland.
What a stunning hotel! It was an absolute delight to freshen up their carpets. As soon as I entered the grounds of the mansion I was in awe, what beauty!
The country hotel itself was well memorable, beautiful carpets leading through the hallway and throughout.
Classic Victorian lounge with logs burning in the open fireplace, it looked so cosy and ideal to enjoy an afternoon tea with friends.
Luxurious Carpets, Victorian Style
I must say cleaning the carpets at this wonderful Victorian mansion country hotel was a privilege, it must be a standout amongst the most beautiful hotels we have work in.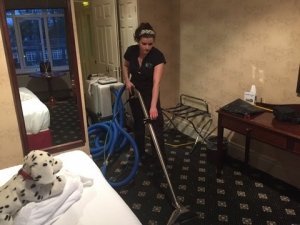 Cleaning such colourful delicate carpets takes some good knowledge and experience.
Kevin has over 20 years' experience alone, hence the hotel was in good hands.
When choosing a carpet cleaning technician, it's very important to ask how much experience they have.
A carpet cleaner can complete and pass many carpet and fabric qualifications yet the experience is what makes a good technician.
I am very privileged to work next to my husband, a highly experienced technician, combined with our system, I couldn't ask for no more.
What is the CSB System?
Our system is based on using our advanced unique combination of solutions, technique, along with HSE (High Steam Extraction).
The system is highly effective in removing dirt, grit, pet odour, viruses and bacteria.
Kevin and I have developed this unique system through many years of testing on different kinds of carpets and upholstery materials.
Our system works best on polypropylene carpets. Additionally, we have developed a unique method of cleaning for wool carpets that are eco-friendly, gentle and completely safe for wool.
We believe our system is the best and most effective way of getting your carpets and upholstery looking amazing.
Furthermore, we have ample amounts of YouTube videos showing how we go about our work and how successful we are in removing stains, and also before and after shots of the outstanding results our system achieves.
Check out the video reviews of our delightful customers expressing how happy they were of our carpet and sofa cleaning service.
Watch our YouTube channel now and see the experts in action!
Remember to subscribe for we have many more videos to come including a few videos showing you some tips and tricks when it comes to spills on your carpets or sofas.