A Limestone Floor Fit For A Wedding
Customer: Mr & Mrs Zorifian
Natural Tile: Limestone & Marble Checked Floor
Objective: Remove Wax Dressing and Restore Shine
Confetti – check. Bridal dresses – check. Floor Restoration – check! check! check!
We all know how hectic and overwhelming the planning of a wedding can be, especially if you're hosting the after party at your home.
That's exactly what Mr & Mrs Zorifian had planned, to host their daughter's wedding party at their beautiful home. 🎊
They wanted everything perfect, from the food and drinks to decor and floors.
After months of planning, decorating and cleaning her home, Mrs Zorifian only bugbear was her Marble and Limestone floor.
So she contacted me and Kevin to arrange a demo which we carried out on her limestone tiled floor. The difference was phenomenal!
With only 2 weeks to go until her daughters big day, she booked us straight in!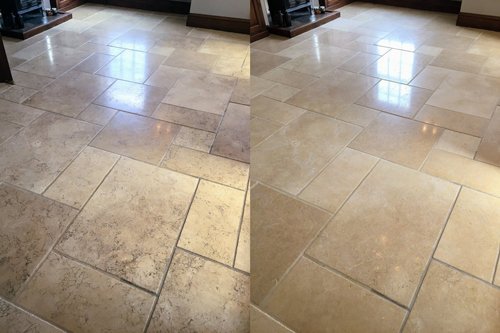 Transformation Begins
Fair do's, the Limestone floor was looking a bit sad. And the Marble was certainly not instagramble!
It was covered in a wax dressing that overtime accumulated A LOT of dirt in the stone's pores and veins.
So, our first task was to remove the wax dressing and clean out all the sticky dirt embedding in the stones fissures.
We then honed the floor to get rid of any light scratches.
By now, we HAD to take a break. Kev was starving and craving for a bag of BBQ hula hoops! 🙂
After a belly full of crisps and coffee, and one happy hubby, we pressed on to restoring the shine to the floor.
Mrs Zorifian wanted a nice shine so we mechanically polished the floor to a beautiful glossy finish.
We rinsed the floor and left it to dry while we polished and created a VERY high shine to her marble checked floor.
Very similar finish to our other recent marble floor project – sunglasses please! 😎
Kevin and I returned the next day to seal both floors.
Whoo—weee!
I was chuffed to bits with the results and so were Mr and Mrs Zorifian.
Just take a look at the before and after pictures!👇
So.Damn.Inspiring.
As always — thanks for reading.
And if you know somebody who needs a nudge to get their floors restored, Give 'em the inspiration they need by sharing this post.