Vinyl, Tile & Stone Floor Cleaning Treorchy, Tonypandy & Tonyrefail
Bringing Warmth, Beauty & Glamour into your Living Spaces
Whether you are in need of hard floor cleaning, stone polishing, crack repair, sealing or tile and stone floor cleaning in Treorchy, Tonypandy and Tonyrefail, Kevin and Mair's reputation is second to none in the hard floor restoration industry of South Wales.
We are certified experts with more than 25 exceptional years in restoring and sealing of Marble, Granite, Travertine, Limestone, Slate, Sandstone, Terrazzo, Ceramic, Porcelain, Vinyl, Amtico and Karndean.
At CSB we continue the art of hard floor restoration using time-tested craftsmanship along with ground-breaking Smart Cleaning Technology.
We only utilise the newest, advanced and proven tile and stone restoration methods that are designed to restore your stone floors original elegance and beauty it once had.
Watch Our Recent Floor Restoration Project
Quality Workmanship by Master Craftsmen
We have been in the hard floor restoration industry for over twenty-five years and with our in-depth expertise, we can help you to preserve, maintain and add value to your investment with lasting beauty with our following services.
CSB Diamond/Resin Polishing Technique: Designed to remove spots, etches and light scratches while leaving a satin, semi-gloss or high gloss finish.
Stone Sealing: Protecting your floor by using impregnators to ensure the sealant
Colour Enhancing: Formulated to enrich and enhance your floors natural colours.
Crack repair: Cracks filled with colour matched epoxy then honed and polished to blend in with the stones natural finish.
Stay Beautiful Stone Maintenance: A maintenance programme where you can enjoy beautiful floors all year round.
Diamond Honed: Removal of minor, superficial scratches and dull areas.
Tile Cleaning: Removal of dirt, grease and grime build up.
Previous Project
Travertine floor restored to its original beauty.
Our Workmanship
There are numerous good reasons why you should consider getting your stone floors restored.
Beautiful Marble floor restored to a satin appearance.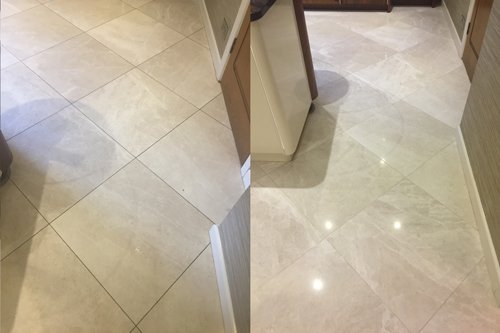 Travertine floor polished and sealed to a semi-gloss finish.
Marble floor Diamond polished to a high gloss finish. 
Clean & Shiny. Beauty Restored
We know that there's always beautiful floor lurking under that dull, cloudy surface or perhaps has gotten lost in the built up grime.
As professionally trained master craftsman, we are driven by an unwavering commitment to delivering exceptional results and beautiful work by revealing your floors once lost elegant features.
We are skilled master technicians and can completely change the overall appearance and feel of your stone floors whatever they may be throughout your home and restore them to like-new condition.
Whether you want to a satin, semi-gloss or high polished finish, or maybe you want to enhance your floors natural colour, no worries, we have a multitude of options within your reach. Just simply call to arrange a free demo clean with Kevin and Mair Today!
Furthermore, after we have restored the beauty of your floors, We will give you a FREE bottle of professional cleaning solution and provide you with instructions on how to care for your floors future.
Quality Creative Craftmanship