Award Winning Stone Floor Cleaning Pontypridd, Llantrisant & Porth
Kevin and Mair of CSB provide award winning tile and stone floor cleaning Pontypridd and throughout the Rhondda valleys.
We do everything you need and nothing you don't!
Restore the shine level to your preference

Colour enhance your floor

Repair any cracks

Remove etching

Stain removal

Clean, polish and seal

Clean the grout lines
And get this…
All our customers receive a FREE 6 month supply of floor cleaner!
Ever Wondered How We Do It? Just Watch!
The most amazing and inspiring video you will watch today. See the full cleaning and restoration process.
Certified Technicians 
Releasing The Beauty Within! 
Restoration of Your Floors Starts Here…
We are passionate about restoring and cleaning your hard floors to their original beauty including:
Amtico

Marble

Terracotta

Travertine

Sandstone

Victorian tiles and Terracotta

Quartz

Slate

Flagstone

Ceramic and Porcelain
Here's what else…
We have a range of finishes that enhance each and every tile and stone floor, whether it's old, new, or worn, we provide you with a beautiful finish every time.
Call us now on 02922 093 015 and let us bring your hard floors back to their natural beautiful appearance with our hard floor cleaning service. 
Most Beautiful Limestone Restoration Project 
Revive Tired Old Tile & Stone Floors To A Like-New Brilliance
We aim to restore your old tiles and stone flooring to an exceptionally high standard. Even if your stone and tiled floors look tired and worn they still can be cleaned and restored.
Just look at what we achieved with this Marble floor below.
From dull and gloomy to bright and shiny!
We have clean and restored countless of hard floors In Pontypridd and the Rhondda valleys using the very latest EFFECTIVE floor cleaning methods that remove years of built up dirt and grime, leaving your hard floors gleaming with lustre.
Latest Cool Project
Get Your Stone Floors Protected 
All natural stones are absorbent to some extent. Protecting your stone floors with an impregnating sealant is a must. And it's wise to top up your sealant EVERY few years if you want it to continue to keep up with the tough work against stains.
I know what your thinking. Does it really provide protection?
Yes, it does!
But don't take my word for it, see the evidence for yourself below. In the picture, I applied sealant in the shape of an X and poured my husbands favourite red wine on it ( yes I know, a treachery!). The red wine absorbed into the tile around the X mark. Now that's impressive protection, would you agree?
In any case, we can protect your floors by hand picking the appropriate sealant that enhances your floors natural, deep vivid colours creating a beautiful finish.
Furthermore, our sealants prolong the life of your hard floors and help to retain its original authentic beauty while keeping your floors intact, reducing maintenance and most importantly, cost and effort.
We have been providing stone, tile and hard floor cleaning in Llantrisant, Porth and Pontypridd for many of our wonderful customers over our 25 years in the cleaning industry.
Want to know more about our floor cleaning and restoration service? Call Mair or Kevin now for a free quote on 02922 093 015. 
Reviving a Porcelain Floor
Porcelain floor restored to a Brilliant White!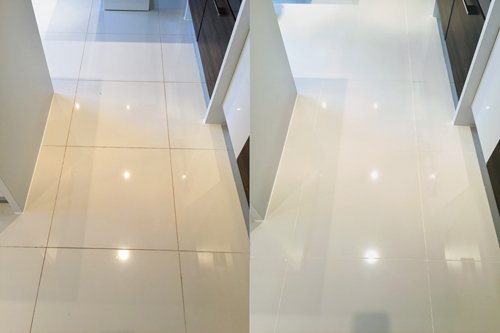 Enhancing Your Floors Natural Features!