Award Winning Tile & Stone Floor Cleaning Cardiff, Bridgend And Cowbridge
We are a local, national award winning, husband and wife team providing exceptional tile and stone floor cleaning Bridgend, Cardiff, Cowbridge and throughout South Wales.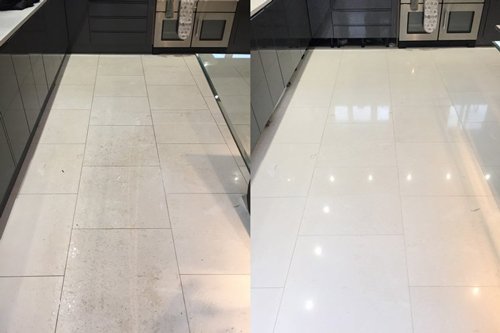 Restore the shine to your stone floors

No more dull or cloudy appearance

Remove built up grime

Apply sub sealants for protection

Enlighten the colours and textures of your floor

A choice of dressings and finishes
And as a bonus
You'll get a FREE 6 month supply of natural floor cleaner (worth £24.99).
Watch Our Floor Restoration Process
Actionable, inspirational, and a pretty darn entertaining video. Watch it now! You won't regret it.
Fully Trained and Qualified
CSB – Always A Beautiful Finish!
Advanced Vinyl, Tile & Stone Floor Cleaning Bridgend & Cardiff
Breathing Life and Beauty back into Your Floors is our Passion!
There's no question about it, we're all aware that hard flooring can be expensive. You want to ensure that your floor ALWAYS looks its best and is well cared for.
The uplifting news is…
…that nurturing your tile and stone floors doesn't have to be costly.
With our revolutionary stone, tile and hard floor cleaning and restoration service, we restore even the most heavily soiled Slate, Limestone, Marble and all natural stone to a "LIKE-NEW" brilliance in a single visit.
At a very competitive price!
This is Mrs Lucas's Travertine floor we cleaned, polished and sealed in her beautiful farmhouse home in Cowbridge.
Breathtakingly Beautiful Floors – Specialist restoration of travertine, marble, terracotta, limestone and more…
You can depend on CSB to keep your hard-surface floors looking their best.
Better still, we have over 25 years' experience of cleaning and maintaining a variety of floor surfaces.
Look at what we're skilled in restoring: 
Slate

Marble

Terracotta

Limestone

Quarry and Victorian tiles

Ceramic and Porcelain

Flagstone

Sandstone

Travertine

Amtico and Karndean

Quartz

Vinyl floors
Whether it's your office lobby, conservatory, hotel reception, exquisite kitchen or bathroom, we can help.
Call Kevin or Mair now on 01656 859 611 or 07716 364 148 and let us restore the natural beauty back into your hard floors. 
Latest Project
I'm not kidding, but this was a tough job, yet we very much enjoyed restoring this travertine floor in a luxury kitchen.
Benefits Of Our Smart Floor Restoration Service
As leaders in tile and stone floor cleaning Cardiff, Bridgend, Cowbridge and throughout South Wales, we are perfectly placed to offer a first class reliable hard floor cleaning service with proven results.
So, here's what's in it for you:
Superior clean and long lasting shine

Choose your desired finish

Highlights your floors wonderful colours

Polished surface enhances the light and space in your room

Enhances your floors texture and tones 
And get this. 
You'll receive a FREE Bottle of floor cleaner worth £24.99.
Victorian Tile Floor Cleaning 
Beautiful Victorian tile floor over 100 years old. Cleaned, sealed & satin dressed.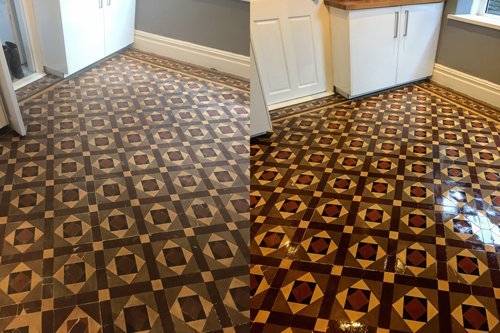 Why Choose CSB Floor Care
In our armoury, we possess a vast number of conventional and high-tech equipment that makes our exceptional floor cleaning and restoration system unique.
What's more, we are highly skilled and experienced specialists in the science of keeping your hard floors looking beautiful.
Let's look at the advantages of choosing us: 
Husband & Wife Team

Genuine Reviews

Full Liability Insurance 

Highly Skilled Technicians

25 Years Experience 
Last but not least…
…we just LOVE restoring hard floors!
Here's One Happy Customer
When you start to notice your stone floor is becoming dull and gloomy, you know it's time to call Kevin and Mair, your local hard floor cleaning technicians.
Liz Davies did exactly that and she never looked back. Just read what Liz had to say about our slate floor restoration service.
This is Liz's slate floor we cleaned and applied colour enhancing sealant. 
Preserving Your Floors Natural Beauty
Your stone, tile or marble flooring demands gentle care to keep its elegant look.
But over time, layer upon layer of stains, bacteria, and soil deposits will have accumulated on the surface and in the crevices of the material. Which by the way, you can't clean with your traditional mopping and chemical cleaning methods.
Here is an example of a Marble floor we diamond polished for our lovely client in Cardiff recently.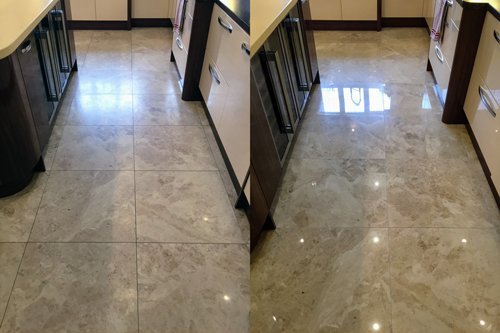 In every job including yours, we will choose a cleaning technique and nourishing formula that is specifically formulated for or your type of hard floor. Ensuring all the dirt, grease, grime, bacteria and stains are removed. While at the same time REVIVING the look of your hard floor, saving their worth and glamour.
Your tile and stone floors will look immediately cleaner and last longer.
Stunningly bliss ensuite bathroom we polished to a high shine chosen by our customer.
Protecting Your Floors Future!
Specialists Natural Stone & Hard Floor Cleaning Process
Clean & Seal Option Only – For all types of floors.
Please note: The following step by step method is our standard process for the clean and seal option. If you require a gloss or high polished finish, our diamond polishing service would be a great option.
Step 1: First off, we remove all loose debris from the surface of your floor.
Step 2: After a thorough detailed inspection of your floor, we will choose a cleaning technique and pick out the right deep -nourishing formula that is both thorough and sensitive to the precise needs of your floor.
Step 3: At this point, we will begin to deep clean the tiles and grout lines to remove dirt, chemical residues and grease build-up using our robust floor machine. And of course, we patiently take our time at this stage, ensuring an optimum clean.
Step 4: Last but one, we then remove all the loosened dirt and grime using a wet vacuum. Finally, we rinse the floor using our high pressured machine that removes any residues left after cleaning.
Step 5: When we return the next morning, the floor will be fully dry and looking beautiful. It's only at that point we can apply an impregnating sealant to protect the floor's surface.
Clean, Polish & Seal Option – Natural Stone (excluding slate)
Please note: This option is for the majority of natural stone tiles only. Unfortunately, you cannot polish porcelain, ceramic or slate tiles, therefore refer to the clean and seal option.
Same as above, we carry out Step 1-5. 
Step 6: Now, our most favourite part, we will start polishing the marble using our hybrid pads.
What are Hybrid pads?
Hybrid Pads are attached to the bottom of our polishing machine. These pads contain thousands of microscopic diamonds and resins which ever so lightly remove a tiny layer off the surface on the stone.
Our pads range from coarse (to remove deep scratches) to fine grit (for a mirror finish).
To begin with, we start with a lower grade grit pad and work our way up through each pad stage by stage until we reach your desired finish.
Step 7: Finally, we rinse the floor to ensure the floor is clear. Once that's done, we need to leave the floor to dry completely overnight.
Step 8: Once dry and gleaming, we will apply an impregnating sealant to protect your floors future.
Colour enhancing sealant can be applied (if desired) to bring out the colours.
Satin wax dressing can be applied to Victorian tiles to give them a slight sheen – See photos opposite.
Another Eye-catching Result
Hang on to your seat because this is simply bliss! A 15-year-old Catania honed Limestone floor that we restored to a subtle shine. Looks pretty awesome, right?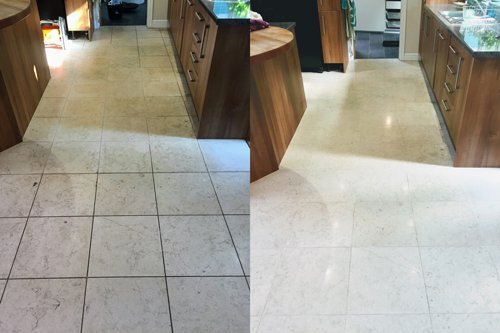 Make Your Floors The Focal Point Of Your Premises
Presentation of your premises remains as an implicit advertisement of your business.
Nothing impacts more on the initial introduction to guests of an organisation's premises than a spotless floor with a profound sparkle!
I think you'll agree with me when I say, that your floors should always look like NEW, and we strive to guarantee this by using our specially formulated tile and natural stone care products.
Whatever your hard floor requirements, make CSB your hard floor cleaners of choice.
For a free quotation for our professional hard floor cleaning in Cardiff, Bridgend, Cowbridge and the Vale of Glamorgan, call Kevin and Mair now on 01656 859 611 or 07716 364 148. 
Possibilities Are Endless…